ST JOSEPH'S CATHOLIC


SCHOOL
TAKAPUNA
2019/12 – April 18
Our prayers are with Emma Washer-Hartley, her husband and her family. Emma died on Palm Sunday after a long illness.  Emma taught at our school and was a woman of strong faith. At her funeral her mother talked of Emma's wish to be remembered as a good teacher. She was an outstanding practitioner who had her students at the centre of her day. In accordance with her family's wishes the school has made a donation in Emma's name to Waipuna Hospice.
"Receive her soul and present her to God the most high"
"Eternal rest grant unto her, O Lord, and let perpetual light shine upon her.
May she rest in Peace."
Amen
Over our last week of Term One our students remembered the journey Jesus took to the cross. They read about, listened to readings from the bible, discussed and enacted various parts of Holy Week. The week and term ended with each team sharing in their Holy Week Liturgy. Thank you to the many parents and family members who were able to share these special liturgies with the children.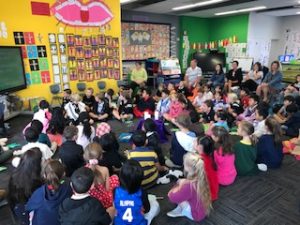 On Friday 5th of April, the New Zealand Opera for Schools was at our school, performing the Barber of Seville. All the students from Kakapo to Kakariki gathered under the shade outside to watch the opera. Over lunchtime the cast had built a little house that was on wheels. Everyone was watching them build it in awe. This was a shortened and adapted version of the real opera. It was first premiered on 20th February 1816.
There were six characters in the act.  They were The Barber, Figaro, Dr Bartolo (Rosina's stepmother), Count Almaviva, the lawyer, Rosina and The policeman which was Mr O'Connor.  He volunteered to be one of the actors.
The story was about Count Almaviva who's in love with Rosina. But her guardian, Dr Bartolo, is determined to make her marry a rich man instead.  Figaro, also known as the Barber of Seville helped Rosina and Count Almaviva. They succeeded and they lived happily ever after.
The opera was very humorous.  Everyone laughed and giggled. The costumes looked fabulous.  The opera singers were very good singers and they were all very confident, including Mr O'Connor.  After the opera finished, they all took a bow and we all clapped and cheered.
The opera was so good that we all didn't want it to end.
By Madeline and David HG 5
On the 11th of April, Kakariki team all gathered in HG 3 as we had special visitors. It was Lady and Heidi the Guide Dogs. As they came in, their owners introduced themselves.
First, one of the owners, Frank told us about the organisation. He said that when the dogs are 8 weeks old, their mothers leave them. At 9 weeks old, they are given to a volunteer, then after about 12 months they are bought back to the Blind Foundation Guide Dog centre for six months for training and assessment. Once a dog is trained, they're matched with a person who is blind or has low vision, and they become their handler. Together as a team, they can work for up to 9 years before the guide dog retires. Frank's dog was called Lady, Frank is not blind he just trains them when they are 10 weeks old.
Lisa was the other owner. She is partially blind. She can only see a little bit out of one eye. Her dog was Heidi. She told us what it is like when you own a Guide Dog and you can not see. She told us that when they are in training they are taught the smell and sense of popular shops and places. This means that Heidi knows where she is going.
We learnt a lot from Frank and Lisa. Thank you very much.
Stella HG 1
North Shore Swimming Competition
On the second of April, seven Saint Joseph's swimmers competed in the North Shore Primary School swimming champs. They were from Year Six, Louis and Olive, from Year Five, Jiho, Ava, Ana, and Kiera, and from Year Four Miguel.  We competed against the best swimmers on the North Shore and the competition was really tough. However, Everyone managed to control their nerves and swam their hardest.  We were super successful and came back to school with six medals – a gold, three silvers and two bronze!  If you love swimming this is a great event and you get a day off school!!
By Louis HG 10
Louis: 2nd in  25m backstroke and 5th in 50m backstroke
Ava S: 1st in 25m backstroke, 2nd in 25m freestyle and 5th in 25m butterfly
Jiho: 2nd in 25m backstroke and 3rd in 50m breaststroke 
Miguel: 3rd in 50m backstroke 
Thank you to the many parents who were able to come to their child's 'Sharing the Learning'. It was wonderful to see so many of you at this special event on our school calendar. The children really enjoy sharing what they have been learning throughout the term with you their parents. 
At the end of next term you will be receiving a report co-written by your child and their teacher. This will reflect the progress your child has made over the first half of the year and what their next steps in their learning are.
Please remember you are welcome to make an appointment with your child's teacher, at any stage of the year, if you wish to discuss your child's programme of learning and progress. 
At the beginning of term two we welcome Ms Holly Welham, who joins us this term to teach Home Group 10. We farewell Ms Jo Nelson, and wish her the very best as she rejoins the New Zealand Police. We also welcome on board Mrs Sioux Manning, who is teaching in Home Group 12 two days a week. Mrs Manning has taken over Mrs Sarah Bartja's role, as she continues her maternity leave with her precious new daughter Jaella Eliza-Anne Bartja, born on 2nd of  April. We welcome Mrs Kate Casey who will be teaching across the Kea, Kakapo and Kakariki Teams. At the end of week one term two we farewell Mrs Kim Wannenburg who leaves us to spend more time with her family, closer to home.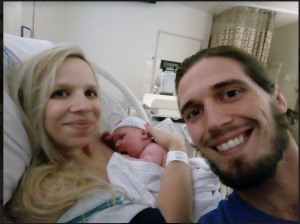 This year we will be entering a team in the North Island Primary and Intermediate School Ski Champs (NIPs) which will be held at Whakapapa, Mt Ruapehu between 2-5 September 2019.
The team will be made up of up to 5 Skiers between Year 1-6 who will travel down on Sunday 1 September for the event.
Due to the nature of the competition and the environment it is being held in, competitors will need to be able to race gates and have previous on-mountain experience.
Competitors will also attend training sessions to be held at Snow Planet with certified instructors during July / August.
Parents will be responsible for your child throughout their attendance at the training sessions & NIPS.
Costs will be finalised once the number of competitors, accommodation requirements etc are confirmed. As an indication approx. costs for entry & accommodation based on 2018 are:
Race Entry per student:        $90
Accommodation:                    $120 per night (per room, 2 people)
Lift pass (Sun-Thurs)            $85 per student (if required)
For more information on NIPS please visit the website at www.nips.org.nz
If your child is interested in competing please contact rachel@leefishnz.co.nz by Friday 19th April.
Also note that parents must attend for the duration of the competition.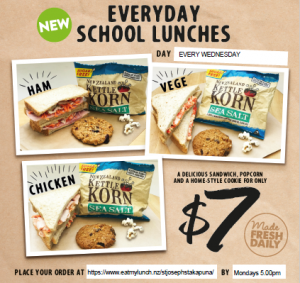 From Term 2 onwards lunches can also be ordered through Eat my Lunch on a Wednesday. They are delivered to school. Families simply login before Monday 5pm and place their order and payment online. The order is automatically generated for the food supplier, ready for preparation and delivery. Every school lunch you buy gives a lunch to a Kiwi Kid who would otherwise go without.

As we come to the end of Term One, we wanted to provide an update on the PTFA's activity over the last 12-months, and where and how the funds raised have – or will – be spent.
Over the last 12-months, the PTFA has facilitated the following social and fundraising activities:
School disco

Movie nights

Quiz night

Chocolate fundraiser

Entertainment books
Thanks to the generosity of our school community, over the last twelve months the money raised through these initiatives has enabled us to facilitate and fund:
Additional shade sails

The blue seating

Activity templates painted on the concrete around the school

End-of-year ice blocks for all students

First Holy Communion morning tea

Shore-to-Shore fun run free BBQ

School picnic waterslide and activities
Additionally, we have managed to almost reach our target of raising $70,000, which will be spent upgrading our playground and outdoor fitness equipment.  This planning is well underway for this project and should be completed in term 3 (once the work on the hall has been finished and access to the bottom fields is restored).
As we look ahead to the rest of this year, we have an exciting range of activities planned that we hope will bring our school community together.  These initiatives include: 
An end of year Christmas concert, featuring our talented children and members of our broader school community including world-renowned tenor, and St. Joseph's parent, Simon O'Neill

A social quiz night

A movie night

A fitness 'athon'

The school disco
The above include a mix of fundraising and social activities, and more information will be provided over the coming weeks and months.  We're especially excited about our plans for the end-of-year concert, which will help showcase the talent we have within our school community.
The PTFA would like to thank everyone for their ongoing support. We look forward to bringing you a fantastic series of events throughout the rest of the year.
If anyone would like to get involved with the PTFA to help organise any of these events – or if you would like to contribute ideas on what you'd like to see organised for the school – the next meeting is scheduled for Tuesday 7, May @ 7.30.  If you can't come along to the meeting, but like to be involved, you can also email pta@sj.school.nz
Many thanks again for your support.
Chloe & the St. Joseph's School Takapuna PTFA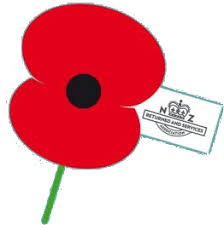 This year there is no Takapuna ANZAC parade. Consequently, students from St Joseph's are not being requested to participate in the parade.
LEST WE FORGET