ST JOSEPH'S CATHOLIC


SCHOOL
TAKAPUNA
2019/15 – May 17
Thank you to our Board of Trustees who had their final meeting as the 2016 – 2019 Board last night. St Joseph's School community appreciates the many hours they have put in to support the students and teachers with their programmes of learning. Highlights of their tenure would be their encouragement and support of the schools educational philosophy of self directed learning, along with the building of Mary Thomas Outdoor Learning Centre. Our sincere thanks to Anna, Cath, Monsignor David, Eric, Gallo, Natasha, Mark, Simon, Tressa and Vanessa.
Nominations for members of the new Board close at midday next Friday 24 May. All parents on the school's electoral roll have been sent nomination forms. Please consider if you would like to put your name forward to be a member of the Board. There is an information evening for prospective trustees on Wednesday 22 May at 7 pm in the staffroom. This is an opportunity for you to hear from current Board members about the governance role of Boards of Trustees. 
God bless
Alister Bridgman
Principal
Monday 20 May
8:50 am – School Prayers
Tuesday 21 May
Home Group 3 – Waterwise
7 pm – Hui – Staffroom
Wednesday 22 May
9 am – Year 6 Group Photo – Weather dependent
Lunch Break Groups – Drama, Culture, Hockey
6.30 pm – 8.00 pm – Parish Eucharist Lessons – Pompallier Learning Centre
7 pm – Board of Trustees Election Information Evening – Staff Room 
Thursday 23 May
8.15 am – Choir
Futsal
Friday 24 May
Mandarin Lessons
Futsal
New Families to Our School
In our school there is a display in the form of a grapevine with paper leaves on it. On each paper leaf therer is a photo of every family in our school community. We would like to put your family on our vine.
Please feel free to email the photo to your child's teacher. If you are unable to email the photo, please send the photo in and we will make a photocopy of it and return the original to you.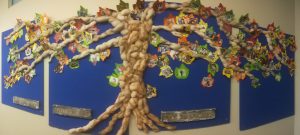 On the 7th of May 2019,  HG4 went for their first waterwise session  at Lake Pupuke. We learnt how to kayak and use an optimist sailing boat. We all found it very hard to tie the knots for the rigging of the boat. It was scary to actually get on the water in the optimist boat but we all managed to get the hang of it in the end. We had lots of fun and learnt lots! This event taught us a lot about being safe out in the water and helped us understand about the Opti itself. We owe a huge thank you to all the parents and waterwise helpers: John and Gordon who helped us get along in waterwise. We are looking forward to Term 4 when we get to get back out on the water again. Next week is HG2's turn – have fun!
By: Keira & Gia
Board of Trustees Elections are coming!
Have you ever wondered what it would be like to serve your school as a member of the school board?
Wine and cheese info evening: 7pm Wednesday 22 May
What skills do you need?
How much time does it take? 
What are the issues at play?
The board of St Josephs is hosting a wine and cheese information night at 7pm on Wednesday 22 May in the St Joseph's staffroom to discuss all this and more. We are looking for new elected board members to join the team for the next three year term. Nominations are due by 24 May 2019 – so now is the time to volunteer!
We are looking for people with:
An interest in education outcomes for our children

A desire to work as team with St Josephs' management

A desire to support the special character of St Josephs School.
You might also have financial skills, property management interest, an interest in policy, or other skills suitable for governance groups. Everyone brings something to the table, so don't be shy about stepping up.
If you have questions about what being on the St Josephs' school board is like, you are welcome to contact Cath O'Brien on 021 730 557, or Gallo Boyle 021 243 4668.
Wednesday May 29
NZEI / PPTA Principal Teacher Strike Day
Dear Prime Minister Jacinda Adern
I am writing to you today to tell you that New Zealand must have 100% renewable energy. I recommend tidal energy because New Zealand has a lot of coastal area and we should invest in it. It is somewhat expensive, but trust me in this, it is worth it!
Secondly, tidal energy is renewable unlike fossil fuels. We can use it again and again. Because what will we do when we run out of fossil fuels? I don't know… We won't be prepared! Fossil fuels also pollute when we burn them which is dissimilar to tidal energy.
Finally, tidal energy lasts for a long time so we will only have to build new generators every few years. We just build some, save some money for the next tidal generators and we just build new ones!
I hope I have persuaded you to invest in tidal energy. We need renewable energy, we're saving the environment, you know!
So now you know tidal is the thing we should invest in.
Your Sincerely,
David
Dear Prime Minister Jacinda Adern
I'm writing to you today to talk about our energy.
In New Zealand 80% of our energy is reusable but shouldn't it be 100% renewable?I think that New Zealand should invest in using more geothermal energy.Our country is only 13% geothermal energy but more of our energy comes from the 59% of fossil fuels that New Zealand produces.
Firstly, geothermal energy is reusable so it doesn't affect our environment. NZ is getting our energy from coal, oil, petroleum and natural gasses which are now contributing to global warming.
Secondly, it's clean and sustainable, geothermal energy is heat from the earth. Its clean and sustainable they use heat from the heat found below the earth's surface to generate electricity.
Finally, geothermal energy is more cost effective and more efficient than burning fossil fuels.
Geothermal energy is also the cheapest of energy out there.
In addition, its underground so it doesn't show, it's nice that its underground that it can not be as noisy as other power plants because all commotion is going on underground.
For these reasons this is why I think that this is why New Zealand should invest in getting geothermal energy sources.
Let's STOP using fossil fuels!
Without a doubt geothermal energy is the best for our country.
From Miela 
The only drive way access to our school and school car parks is the drive accessed at 10 Dominion St. The driveway at 2 Fred Thomas Drive belongs to Summit School.
Please do not use this drive or associated parks. Please ensure you are driving at an appropriate speed when on school property. Students, parents and parishioners are walking through the car park and on the driveway. Thank you