ST JOSEPH'S CATHOLIC


SCHOOL
TAKAPUNA
2019/25 – August 9
On 15 August each year we celebrate the patronal feast of Aotearoa New Zealand – Mary's assumption into heaven. Our school will be attending and leading the parish mass at 9.15 am Thursday August 15 next week. Whanau are welcome to join us
Parts of an article written by Dr Elizabeth Julian RSM about the Feast of the Assumption of the Blessed Virgin Mary
The actual dogma says:
We pronounce, declare, and define it to be a divinely revealed dogma that the Immaculate Mother of God, the ever-Virgin Mary, having completed the course of her earthly life, was assumed body and soul into heavenly glory.
Pope Francis reminds us:
… Carried up into heaven, she is the Mother and Queen of all creation. In her glorified body, together with the Risen Christ, part of creation has reached the fullness of its beauty (LS #241).
Here we see an aspect of the feast that is becoming increasingly important: the goodness of all creation and Mary's crucial role in a Christian eco-spirituality, that is, one that has Jesus at the centre.
As Pope Francis says, Mary 'treasures the entire life of Jesus in her heart', see Lk 2:19, 51, (LS #241).
But where is heaven? Where has Mary been 'carried up into'? Actually, heaven has a lot to do with earth. Everything is connected! Jesus' followers didn't ask what heaven was like but, instead, what they had to do here in the present to get there in the future. Jesus taught his disciples to pray '…thy will be done on earth as it is in heaven'.
Furthermore, Pope Francis points out:
Mary, the Mother who cared for Jesus, now cares with maternal affection and pain for this wounded world. Just as her pierced heart mourned the death of Jesus, so now she grieves for the sufferings of the crucified poor and for the creatures of this world laid waste by human power (LS #241).
… The feast of Mary's Assumption affirms the very goodness of our bodies – the whole person will be saved. Mary has been totally redeemed and now shares fully in the risen life of her son Jesus. She is not a ghost or a spirit floating around in the sky. She is a real bodily person. What happened to her will ultimately happen to us. As we pray in the Creed: 'We believe in the resurrection of the body and life everlasting.'
Mary '…now understands the meaning of all things. Hence, we can ask her to enable us to look at this world with eyes of wisdom' (LS #241), and to have the courage to honour our responsibility to respect and take care of, not only ourselves and one another, but Earth, 'our common home'.
Mary assumed into heaven, we grieve with you for the 'sufferings of the crucified poor and for the creatures of this world laid waste by human power' (LS #241).
For all things Mary go online to udayton.edu/imri/mary/index.php
Dr Elizabeth Julian RSM is a lecturer and Distance Education Coordinator at the Catholic Institute of Aotearoa New Zealand.
Monday 12 August
Life Education
8.50 am  – School Prayers
Lunch Time Clubs – Kapa Haka
Tuesday 13 August
Life Education
Team Kakariki (HG 3 & 4)- Mind Lab Trip
Wednesday 14 August
Life Education
Lunch Time Clubs – Drama
KOS 7pm – Parent Information Evening
Thursday 15 August
Feast of the Assumption
Rippa Rugby – Onewa Domain
8.15 am – Choir
9.15 am – School Mass
Friday 16 August
Mandarin
Kakapo – Kiwi Ball
Winter- Enslave the grass in mud filled prisons,  dismay the birds far away to other places,
Make the crops grow bitter,
But we will cultivate you.
Winter- trap the beaches, scrap the sky's to reveal grey clouds, 
Make muddy claws to scratch our legs. 
Winter- storm snow, it is time for you to go,
Take the colour, make us suffer,  
but you only prepare us for darker days.
Winter- we will deliver the final blow and dive in victory's glow.
By Kupila, HG3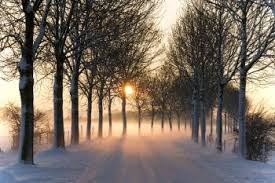 Thank you
The PTFA would like to thank everyone for their support of the St. Joseph's Fitness Athon on Wednesday.  A few showers didn't dampen the enthusiam of the children and it was a fantastic day for all.  Thank you also to all the parents who came along to cheer on the children.
If the children could now please collect their sponsorship money and return it to school, it would be appreciated.
Thank you for your support.
Keeping Ourselves Safe (KOS)
Next week we have a parent information evening on the programme Keeping Ourselves Safe. This programme is being delivered by the teachers across the school during weeks five and six. The outcome of the programme is to enable children and young people to learn and apply a range of safety skills that they can use when interacting with others. Students recognise the differences between healthy and unhealthy relationships, and those who have been or are being abused are encouraged to seek help. We encourage all parents to attending this parent information evening which will be led by Senior Constable Murray.
Wednesday 14 – Staffroom – 7-8 pm
Get a group together for the St. Joseph's School quiz night, which this year will be held at Fantail & Turtle.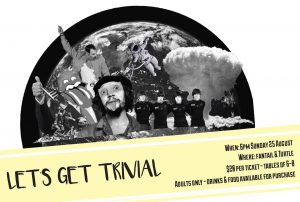 Date: Sunday 25, August
Time: 6pm
Location: Fantail & Turtle Bar & Restaurant, Smales Farm 72 Taharoto Road, Takapuna
Ticket price: $20 per person(tables of 6-8 only), please pay by bank deposit into the PTFA account and return your slip to receive your confirmation email.
PTFA Account Number: 12 – 3026 – 0316672 – 000
Limited tickets available on a first in basis.
Food & drinks available for purchase at the bar. 
This is a fun adults only evening supporting the school. We are fundraising to reach our target for the extension of playground equipment.
Rugby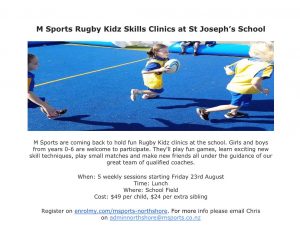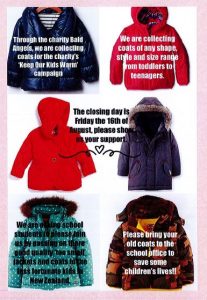 HELLO
My name is Amelia Taite and together with my friend and classmate Rylen Lyons, we are collecting winter jackets and coats for kids as part of our community project. 
We all know how cold it is in winter even in our subtropical climate. Many children do not have warm coats to keep them warm.Every day more than 1 in 4 Kiwi kids go without the basics most of us take for granted. This has a profound impact on their health, education and self-esteem.
We decided that we need to do something for the children that will be freezing this winter.
Through the charity Bald Angles in Northland http://www.baldangels.org.nz/events_projects/coats-for-kids/, we are collecting coats for the charity's 'Keep Our Kids Warm' campaign. Coats of any shape, style and size are welcome from coats for toddlers to teenagers.
We are asking for school students to join us by passing on their good quality 'too small' jackets and coats to less fortunate kids in Northland.
Please leave them at the school office.
The closing day is Friday 16th of August. Please show us your support.