ST JOSEPH'S CATHOLIC


SCHOOL
TAKAPUNA
2019/30 – September 16
Our grateful thanks to our kapa haka group who led the school with waiata on Taharoto Rd. The school sang beautifully for the Te Wiki o Te Reo Maori celebration. Schools throughout the North Shore went to their nearest road to perform waiata as part of Te Wiki o Te Reo Maori. It was a wonderful sight for those passing by in their cars and on foot. A highlight was the kapa haka group performing the haka with much mana.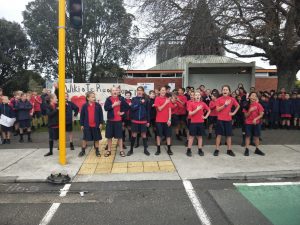 On Wednesday the kapa haka group went to Wilson School to perform. They were warmly received. The students of Wilson School showed their appreciation by inviting our students to take part in their end of day assembly. A wonderful sharing of talents.
On Wednesday September 18 you are invited to a Parent/Principal coffee beginning at 9.15 am. At this coffee session in  the staff room I will be talking about 'Self Directed Learning'. This is central to the programme of learning here at St Joseph's. If you are interested to learn more about the foundations of our school's programmes of learning you are welcome to attend this presentation. Please note the there will NOT be a evening presentation for this topic.
The gospel reading at this morning's school prayers was The Prodigal Son. This reading is regularly used when students are celebrating the Sacrament of Reconciliation for the first time, with their families. I spoke to the children today of how the story is not only about forgiveness but also about the strong love a parent has for their child. Every parent's most precious gift from God. Hopefully every child will be coming home to you their parents to give you big hugs and kisses and saying "I love you". That was their task for this week. 
Manaakitia e te Atua
Alister Bridgman
Tumuaki 
Monday 16 September
8.50 am – School Prayers – School Hall
Lunch Time Clubs – Kapa Haka
Tuesday 17 September
Teams Kea & Kiwi – Swimming
7 pm – Board of Trustees Meeting – Staffroom
Wednesday 18 September
Teams Kea & Kiwi – Swimming
9.15 – Principal / Parent Coffee – Self Directed Learning
Lunch Time Club – Kidzcan Drama
Thursday 19 September
Teams Kea & Kiwi – Swimming
Catholic Schools' Cross Country
8.15 am – Choir
1.30 pm – Cultural Afternoon
SCHOOL DISCO – 6 pm Year 0 – 3 / 7 pm Year 4 – 6 / Gold Coin Donation
Friday 20 September
RWC Team Dress Mufti Day
12.40 pm – Rugby Skills Clinic
SCHOOL DISCO – This Thursday September 19
Put on your dancing shoes and come and join your children on the dance floor in the school hall.
Years 0 – 3 students dance begins at 6 pm through to 7 pm and  Years 4 – 6 students begin their dancing at 7pm through to 8 pm. All students must be accompanied by an adult for the duration of their time at the disco.
Please bring along gold coins for gold coin entry, and to buy bbq sausages for you and your children, along with drinks and other treats that will be on sale. All the money raised goes to the new playground equipment.
We look forward to see you all at the St Joseph's Disco.
SAVE THE DATE – Friday September 27
The final week of term is Mercy Week. It culiminates with the school leading the 9.15 am Parish Mass Friday September 27. We would love to see all our whanau join us for this special school Mass.
This term on Thursday afternoons the students have been in learning about various cultures within and outside of our school community. Following our Mercy Day Mass on Friday September 27 at 9:15 am students, will be sharing their cultural learning / dance / song etc. This will be held in our school hall from 11.15 am. You are most welcome to join us for these celebrations.
We encourage the children to come along dressed according to the international dress of the culture they have been studying or the culture of their choice.
New playground and soccer goalposts arriving in term 4!
Thanks to our community's generosity. The ATHON and quiz night organised by the PTFA raised more than $12,000.   The PTFA has reached its overall fundraising targets and the outdoor playground equipment and football goalposts have now been ordered.  The new playground should be in-place by the middle of term four, and the goal posts by early term four for our children to enjoy.
To say thank you to the children for all their efforts, the PTFA organised for small stationery gifts or Bluetooth speakers to be given out by the teachers on the day of the ATHON. This was to acknowledge the effort and support given to their peers. Every child at school on the day of the ATHON received a prize and a free sausage from the BBQ run at lunchtime by the PTFA.  To further recognise individual and collective fundraising efforts, the PTFA also provided a pizza and popcorn lunch last Thursday to HG14 who, together, raised the most funds through the ATHON. Today the top four individual fundraisers each received a Warehouse voucher.  Congratulations to Gianna, Joshua, Azariah, and Jekerynay for their efforts.
The PTFA is now turning its efforts to supporting the school disco this Thursday evening and to organising the upcoming Christmas Concert, which will take place on December 8.  More information on the concert will be distributed this week, with tickets going on sale in term 4.
The PTFA would like to thank everyone for their continued support and hope the children enjoy the new playground and the soccer goalposts that will arrive next term.
Thank you.
The St. Joseph's Takapuna PTFA
Please could parents not park in the area in front of the orphanage. These parks are for the Summit School parents. We have parish parks, the court parks and the pick-up zone available for parents when collecting their children at the end of the day. Thank you for your support with this matter.