ST JOSEPH'S CATHOLIC


SCHOOL
TAKAPUNA
2018 / 34 – October 18
Mission Month
"I am a mission on this earth; that is the reason why I am here in this world. We have to regard ourselves as sealed, even branded, by this mission of bringing light, blessing, enlivening, raising up, healing and freeing."
(Evangelii Gaudium)
Jesus entrusts all of us with a mission: "Go into all the world and proclaim the gospel to the whole creation" (Mk 16:15). 
For some that may mean distant shores, for others in the very town they grew up in. But the moral of the story always remains the same: hear the cry of God's people. They are waiting, and Pope Francis is going. He challenges us to do the same. 
It requires our sail to be steered by the Spirit; which will make us leave port against the headwind of society, but catch the eternal current of what Jesus asks of us. It is not easy to untie the ropes that take us from the safety of our harbor, but did not God Himself choose a life far from comfort for His only Son? 
Do not be afraid of total abandoment; "we Christians were not chosen by the Lord for little things; stake your lives on noble ideals." (Pope Francis).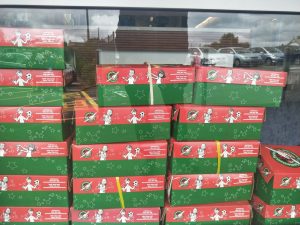 Our school's focus for the October Mission Month is the Christmas Shoeboxes. It is great to see them arriving at our office. Please would each family consider contributing items for the Christmas shoeboxes or putting together a family Christmas shoebox. The shoeboxes and instructions are available at the office. Thank you to those who have already generously donated to our mission for October Mission Month.
We have had a great first week back for the new term. The students have enjoyed being back with their friends and sharing the stories of their break. The new students are settling into their new school and have made some new friends. It was wonderful to be able to welcome them and their families at our first Monday school prayers for the term.
The Kakapo and Kakariki Teams began their swimming programme this week at the AUT Millenium Pool. They participate in a two week programme which is run by the AUT Millenium Pool Swimming Instructors. This is a wonderful opportunity for the students to build on the skills they have. We encourage parents to take their children swimming at the local pools regularly as being a confident swimmer is an essential life skill for our children.
This term the year 5/6 students are participating in the Waterwise programme. This sees them learning how to sail on Lake Pupuke. The students really enjoy this programme and it is a wonderful opportunity for them to experience this sport on a lake so close to our school. We are very reliant on parent support in order to be able to provide this programme for our students. Please consider volunteering to be a waterwise instructor. No previous sailing experience is required. Below is a notice about how you can be invloved. We would encourage all parents to consider volunteering to be a waterwise instructor as one day your child will be in Year 5/6.
We welcomed back Marko this morning. Marko is our softball coach and he will be coaching Team Kakapo on Fridays. The students really enjoy his prgramme and it is great to have him back at St Joseph's.
On Wednesday our Pasifika Culture Lunch Club will begin again next week. All students are welcome to be a member of this lunch club. They meet in the hall at the beginning of the lunch break. Have a talk to your child as to whether they may like to be involved in this club.
The extention to our lower playground is underway. The frames for the playground and the equipment are in place, as are the poles for the shade sails. It is going to be a great addition for our students. Our thanks to the PTFA for all the fundraising they have done to make this possible. Their next big fundraiser is the School Christmas Concert. The funds raised from this event will be going to the schools Arts programme.  On  Tuesday October 22, 7.30pm, there is a PTFA meeting in the staffroom. All parents are invited to this meeting.
Ka manaakitia koutou e te Atua
Alister Bridgman
Tumuaki
Monday 21 October
8.50 am – School Prayers – School Hall
Lunch Time Clubs – Kapa Haka
Tuesday 22 October
Kakapo and Kakariki Swimming
Lunch Time Clubs – Chess
7.30 pm – Parish Planning
Wednesday 23 October
Kakapo and Kakariki Swimming
Lunch Time Clubs – Kidzcan Drama / Pasifika Culture Group
Writers Workshop
Thursday 24 October
8.15 am – Choir
Kakapo and Kakariki Swimming
Friday 25 October
Mandarin
Kiwi Ball – Team Kakapo
Cluster Speech Competition
Here at St Joseph's we have a Waterwise programme (sailing and kayaking) that we run for Year 5 and 6 students to build on the Beach Education they attend in Year 3 and 4. However this programme can only run if we have qualified and non-qualified helpers. 
We have a slot on Tuesday mornings down at Lake Pupuke and would love to have some parents (with students from anywhere in the school) to train up and come and get involved! You are guaranteed some fantastic days out on the water and once trained can support us any Tuesdays you are available!
There are two ways you can help (just as a parent helper or as an instructor), but today we are just looking for parents interested in becoming an instructor.
Below is the information for the course. We understand it is a big commitment, but are always looking for parents who enjoy this kind of experience to upskill.
Dates for training:-
Monday 11 November 4-8pm.
Thursday 14 November 4-8pm.
Sunday 17 November 8.30am – noon  – sailing practice session.
Monday 18 November 4-8pm.
Thursday 21 November 4-8pm. – written test session.
Practical sailing assessment to be one day 4-8pm in the next week
So the commitment is for 6 sessions and then you will be qualified and receive a certificate. If you are interested please email Sarah Nicolson at sarahn@sj.school.nz
Parish
PARISH PLANNING – Our Diocesan general manager has agreed to help us with a planning process to:
Help us to be practical and specific about being missionary disciples of Jesus on the North Shore; and

Help us decide how we can best use our parish resources for our mission
The process will challenge us to consider our properties at Takapuna, Milford and Bayswater; to make decisions about the Takapuna land footprint, which includes the church, St Joseph's school and the old orphanage and Rosmini College.
We invite as many parishioners as possible to participate in this process.
The first session will happen twice – choose to come to either Sunday October 20 1.30 pm – 4.00 pm or Tuesday October 22 7.00 pm – 9.30 pm at St Joseph's Parish Hall.
The second session will be held Tuesday November 26 November 7.00 pm – 9.30 pm.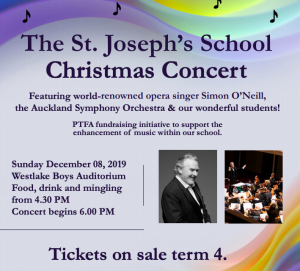 Thank you for ensuring your child is in the correct uniform