ST JOSEPH'S CATHOLIC


SCHOOL
TAKAPUNA
2019 / 35 – October 25
The school will be closed on Monday October 27 for Labour Day. Labour day is a public holiday to commorate the struggle to achieve an eight hour working day. The first Labour Day was celebrated in New Zealand on October 28 1890. It saw trade union members and supporters attending parades in the main centres. We hope you get to enjoy your Labour Day with your family.
Friday November 1 the school will be celebrating All Saints Day Mass with the Parish. The Mass begins at 9.15 am in St Joseph's Church. We encourage all whanau to attend this special school/parish Mass. All Saints Day is a holy day in the Catholic church on which we remember the many Saints who are an important part of our faith. They are people who are an example of a strength of faith which we can aspire to. It is also said that in eyes of God we are all Saints and this holy day is an opportunity to celebrate the importance of our faith in our lives.
The following day November 2 the church celebrates All Souls Day. This is the day in which we remember and pray for all those who have died. All Saints Day and All Souls Day begin a month in which the Catholic church prays for all those who have gone before us to their eternal rest with Our Lord.
Eternal rest grant unto them, O Lord,
and let perpetual light shine upon them.
May they rest in peace.
This week you received information on our up-coming School Christmas Show which is being held on Sunday December 8 in the Westlake Boys Auditorium. This is going to be a truely stunning event for our students to be a part of. We are so fortunate to have Simon O'Neill, Peter Thomas and the Auckland Symphony Orchestra performing with our students. We encourage you to take the opportunity to buy your tickets for this AWESOME event before they go on public sale. You can purchase them through this link: 
Once upon a starry night. A Christmas Concert Like No Other
Exclusive school pre-sale: click here to buy your tickets now!
A notice was sent out about filming and photographing of the Christmas Show. Thank you to parents who have returned the permission slips. If you haven't had the opportunity to do so please could you print off the permission slip (link), complete it and send it to your child's teacher. Alternatively you are welcome to send an email to your child's teacher stating you give your child permission to perform and to be recorded. If you do not want your child to be recorded please could you contact their home group teacher. Thank you.
Thank you to the many families who have donated Christmas Shoeboxes or items for them. We have one more week to get all the boxes in. We have a new supply of boxes so if you are interested in putting together a Christmas Shoebox for children in need, please collect one from the office (or get your children too) along with the intsructions. This is Mission Month and Operation Christmas Child is the mission for our school. Thank you for your support.
Ka manaakitia e te Atua
Alister Bridgman
Tumuaki
Monday 28 October
Labour Day – Public Holiday
SCHOOL CLOSED
Tuesday 29 October
8.50 am – School Prayers – School Hall
HG 4 – Waterwise
Lunch Time Clubs – Chess
Wednesday 30 October
Lunch Time Clubs – Kidzcan Drama / Pasifika Culture Group
6.30 pm – Parish Sacramental Programme Parent Orientation – Flanagan Lounge – Church
Thursday 31 October
8.15 am – Choir
6.30 pm – Parish Sacramental Programme Parent Orientation – Flanagan Lounge – Church
Friday 1 November
LAST DAY FOR CHRISTMAS SHOEBOXES
9.15 am – School/Parish All Saints Day Mass – St Joseph's Church
Mandarin
Kiwi Ball – Team Kakapo
Parish
The Parish Sacramental Programme Parent Orientation is being held in the Flanagan Lounge under St Joseph's Church beginning 6.30 pm on the evenings of October 30 and October 31. Parents have the choice as to which one they attend. Edwin Macmac is our parish Sacraments Co-ordinator and parents are welcome to contact him at the parish office at (09)4896486 to discuss the parish sacramental programme.
General
Check out the NOEL LEEMING notice on General Notices – Link
Operation Christmas Child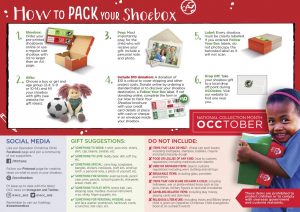 A Christmas Concert Like No Other

Thank you for ensuring your child is in the correct uniform