ST JOSEPH'S CATHOLIC


SCHOOL
TAKAPUNA
2019/37 – November 8

Our tamariki had the most amazing experience on Wednesday morning this week. They were able to sing with one of New Zealand's world famous opera singers, Simon O'Neill. It was a very festive rehearsal, singing Christmas carols in preparation for our Christmas Concert on Sunday December 8. Mr O'Neill is a wonderful singing teacher for our students and he was very impressed with the beautiful voices that our tamariki have. Together with the Auckland Symphony Orchestra, conducted by Peter Thomas, our tamariki and Simon O'Neill are going to present us with the most stunning concert. Make sure you have booked your tickets. It is a 'not to be missed' event. Check out the Christmas Concert Update below.
Thank you to the many families who attended our Alphonsus House Parish Mass last Sunday. The Parish enjoy seeing the young parishoners in action. We appreciate that our tamariki come from a number of North Shore parishes so thank you to their parents for supporting this House Mass.
Next Friday Charlotte and Hamish Baker will be Principal's for the Day. Their parents won this prize for them at our quiz night fundraising event earlier in the year. Their theme for the day, and our school's focus this week is 'A Sustainable World'. Riley Hathaway will present 'Young Ocean Explorers' on Wednesday afternoon. She will be talking to the whole school about sustainability. Whanau are welcome to join us in the hall for this presentation at 1.30 pm.  Hamish and Charlotte will be talking to the children on Monday about plastic wrapper free lunches. Students can come dressed in mufti and are invited to bring a plastic wrapper free lunch. This is a wonderful concept that we should all consider in order to achieve a sustainable world. We also invite everyone to bring along a gold coin which will go to the Hospice. A wonderful organisation that supports many families at a time of great need.
The students are having a wonderful time on the new playground in their breaks. We will be reminding them next week that when they arrive at school in the morning, any time after 8 am, they need to wait in the courtyard, that includes the Mary Thomas Learning Centre and the Junior Playground. No students are to play on the adventure playground, lower or upper fields before school. We also ask that parents remind their children they need to wait in the pick-up area to be collected at the end of the day. Please do not ask them to wait anywhere else. Please come to the pick-up area to collect your child rather than asking them to walk across the car park to you. These measures are in place for the safety of all students. Thank you for your support.
Ka manaakitia koutou e te Atua.
Alister Bridgman
Tumuaki
Monday 11 November
8.50 am – School Prayers – School Hall
Lunch Time Clubs – Kapa Haka Group
Tuesday 12 November
Sports Team Photos
Lunch Time Clubs – Chess Group
Wednesday 13 November
Festival of Football
Lunch Time Clubs – Kidzcan Drama / Pasifika Culture Group
6.30 pm – Parish Sacramental Programme
Thursday 14 November
8.00 am – Choir
1.30 pm – Ocean Explorers – Hall
Friday 14 November
MUFTI DAY – Gold Coin Donation – Hospice
Plastic Wrapper Free Lunches Day
Mandarin
Tiritiri Matangi – Year 6s
Kiwi Ball – Team Kakapo
St. Joseph's Christmas Concert is to feature on TVNZ Seven Sharp next week!
Concert tickets selling fast – get in quickly
Preparations are well underway for our Christmas concert. This week our children were lucky enough to participate in a singing workshop with Simon O'Neill.  It was a fantastic experience and everyone was absolutely buzzing.  Thank you to Simon for his time.
The concert team is working hard to promote the concert and their efforts are really starting to gain traction. At the workshop, we were lucky to have a camera crew from TVNZ's Seven Sharp and a photographer from The Devonport Flagstaff and Rangitoto Observer. 
A story on our Christmas concert preparation is tentatively scheduled for this Wednesday 13, November on Seven Sharp (TVNZ @ 7pm) and in the Devonport Flagstaff and Rangitoto Observer over the next couple of weeks.  You will also find an article about the concert on page 49 of the November issue of The Channel Magazine. This coverage should really help to promote the concert and drive our fundraising efforts.
To make us feel even more like famous singers, we also had our own camera person filming at the workshop to capture some behind the scenes footage for our concert DVD! If you would like to pre-order a DVD or USB copy of the concert and our preparations, you can do so via the iTicket link below.
With our promotion of the event really gaining momentum, if you haven't got your tickets yet we encourage you to get in quick as tickets are limited and we don't want anyone within our school community to miss out! 
 To buy tickets or DVDs/USBs: https://www.iticket.co.nz/events/2019/oct/stjosephs
To follow the event on Facebook: www.facebook.com/StJosephsTakapunaPTFA  
To sponsor this event or for VIP ticket packages please email: bridgetallennz2@gmail.com
To volunteer to help please email: pta@sj.school.nz  
* To everyone who has already volunteered, a big thank you. We will be in touch over the next several days.
Emmanuel Oposu Yeboah was someone who wanted to carry a note to all disabled people that him and them can do the same as others. 
He was born in Ghana, West Africa. He had to do lots of chores like all the other kids. When he was little his father left him because he did not have faith in his son.
At first nobody wanted to play with him but then he brought something nobody else had. A brand new soccer ball. Everyone wanted to play with it so he said you can play with it if I get to play with it too. So they all played soccer together.
Emmanuel's mother grew sick so he went to Accra to earn money for his family. When he got back his mother had died.
He rode around Ghana to tell all disabled people that they can do the same as others. He won the ESBN and Nike awards and gave wheelchairs to people who needed them. He carried the torch for the Olympic games. He wanted to tell his children to always care and love.
Emmanuel taught the world that even if you have a disability you can do the same as others.
Written by Charlie HG10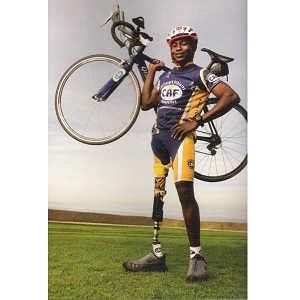 Emmanuel Ofosu Yeboah is a disabled boy with a message to disabled people. You can do anything.
Emmanuel was born with one bad leg. He was born in Ghana West Africa. He had a very poor family.
His Mum had to carry him to school until she said he was too heavy, so he learnt to hop and crawl to school by himself. He saved up all his money to buy something none of his classmates had and bought a soccer ball. He said you can play if I can play too.
His mother grew sicker and sicker and then he travelled to Accra to earn money for his family. So he shined shoes.
One day Emmanuel decided to cycle all around Ghana to show disabled people can do anything.
Emmanuel won Nike and ESPN awards and carried the Olympic torch. Now he is giving disabled people what they need. He wants to teach his children to never give up.
He has been encouraging people to never give up on your dream. You can do anything if you believe.
Written by Maddy HG10
General
Measles Information LINK
Sports Team Photos
Sports Photos on Tuesday, 12th November
Could all students who have played a sport in Term 3 or 4, please remember to bring your team sports uniform and sneakers