ST JOSEPH'S CATHOLIC


SCHOOL
TAKAPUNA
2019/24 – August 2
A friendly reminder that I am offering parents the opportunity to meet for coffee to hear from myself and members of the leadership team about aspects of learning and teaching at St Joseph's. I anticipate these information sessions will be thirty to forty-five minutes long.
Monday August 5: Our Education Review Office Report – 9.15 am and 6.30 pm
Thursday August 29: Our Learning Space – 9.15 am
Wednesday September 18: Self Directed Learning – 9.15 am
Please note the change of dates for the second and third sessions, from those that were originally advertised.
Congratulations to our school leaders whose roles and names were announced this week. As a school we have a variety of leadership roles for our Year 6 students to apply for. If they are selected they hold their position for two terms. Listed below are our school leaders for the Terms 3 and 4 this year.
Team Kakariki welcomed students from Tokyo City High School this week. They are guests of Rosmini College. Each year students from Tokyo City High School visit Rosmini College and their visit to our school allows them to experience a New Zealand primary school. Our students are able to learn about Japan from these students and develop their origami skills.
God bless
Alister Bridgman
Principal
Monday 5 August
8.50 am  – School Prayers
9.15 am – Parent/Principal Coffee – ERO report
Lunch Time Clubs – Kapa Haka – 
6.30 pm – Parent/Principal Coffee – ERO report
Tuesday 6 August
Wednesday 7 August
Lunch Time Clubs – Drama / Cultural Group
Thursday 8 August
8.15 am – Choir
Friday 9 August
Life Education
Mandarin
Kakapo – Kiwi Ball
Special Character
Stella (Leader), Cara (Leader), Mharcus, Keira, Eliza, Sasha, Ryan
Eco
Gabby (Leader), Nikhil, Ashton, Eliza, Gaelle
Events
Kupila (Leader), Vicki, James, Charlie, Jett, Zuri
House Captains
Alphonsus – Louis, Madeline, Meila   McAuley – Charlotte Noah
Patuone – Lucy, Mia, Liam   Pompallier – Hunter, Olive, Grace
Information Technology (IT)
HG1– Zuri  HG2 – Nikhil, James, Elliot
HG3 – Vicky, Maxine  HG4 – Fabian, Gia  HG5 – Jonah, David
Librarians
Kevin (Leader), Holly, Oscar, Melina, Jett, Caleb, Owen, Felix
Peer Mediators
Michaella (Leader), Samantha, Jack, Ava, Isabel, Casey, Monique, Tarryn, Noah, Elliot
Rainy Day Monitors
Isabel (Leader), Tarryn, Gabby, Caleb
Receptionists
Sasha (Leader), Karen, Monique, Holly, Macbeth, Ashton, Issac, Gaelle, Gloria, Maxine, Gia
Beth (Leader), Kevin, Ava, Erin, Gloria, David, Mharcus
Sports Captains
Alphonsus – Casey, Eva, Charlie  McAuley – Max , Jack, Teja
Patuone – Riley, Kyle , Achira  Pompallier – Ciara  Brodie, Tom
St Joseph's Fitness-athon
PRIZES PRIZES PRIZES
Welcome to the St Joseph's Fitness-athon for 2019! 
We are looking forward to a fun fitness-athon day on Wednesday, next week. Parents and whanau are welcome to come along and see their children participating in this event.
When will it take place?
Wednesday of Week 3:     7th August
Kakariki team: 9:15am – 10:15am
Kakapo team: 11:15am – 12pm
Kea team: 12pm –            12:30pm
Kiwi team: 1:45pm –       2:05pm
Come along and see your child completing the circuit of running, skipping and hula hoops. The PTFA will be running a BBQ and there will be a BBQ sausage available for the children and their parents and whanau.
Please support your child in getting sponsors for this event and get them to bring their sponsorship forms to school either Tuesday or Wednesday next week.
Once students have achieved their goal, they will collect the donated money and bring it into school. Last day for bringing in donations will be Friday, 23rd August. There will be containers in each home group for  envelopes containing money and forms. Please make sure the envelopes are clearly named and record the amount of money in it.
PRIZES PRIZES PRIZES
Individual, Home Group, House
On Wednesday the 31st of July, many home groups went to the field to have a fun rugby experience to get outside and learn many new skills, thanks to M sports, a resourceful company that makes exercise fun. The children played Pokémon ball (a game where there are a few taggers and they had to touch the others if they have balls, making them sit down) and superheroes (like an octopus but the runners have balls and the superheroes had to rip their bibs off.) Even though the field had a mud bath, even that couldn't ruin our fun. Overall it was an exciting and fun time.
By Beth and Olive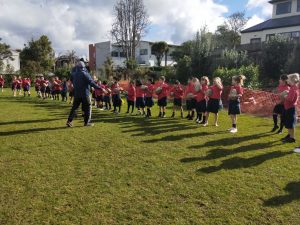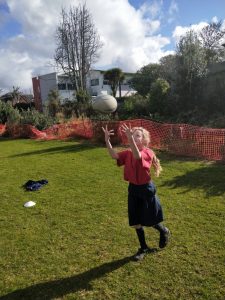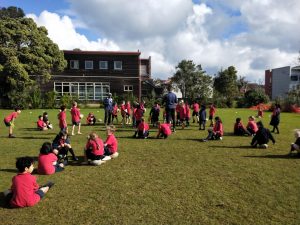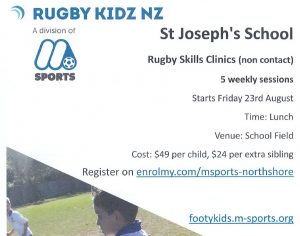 Get a group together for the St. Joseph's School quiz night, which this year will be held at Fantail & Turtle.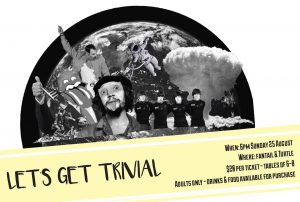 Date: Sunday 25, August
Time: 6pm
Location: Fantail & Turtle Bar & Restaurant, Smales Farm 72 Taharoto Road, Takapuna
Ticket price: $20 per person(tables of 6-8 only), please pay by bank deposit into the PTFA account and return your slip to receive your confirmation email.
Limited tickets available on a first in basis.
Food & drinks available for purchase at the bar. 
This is a fun adults only evening supporting the school. We are fundraising to reach our target for the extension of playground equipment.
SHARED PARISH MEAL
Friday August 9, 6 pm. Come to a fun evening at St Joseph's Hall. Shared evening meal. Bring a plate to share.
PARISH CENTENARY RETREAT –
A time to refresh and renew our faith
Presenters: Sr Joan Bukrey – Sisters of St Francis of Assisi, Milwaikee Wisconsin. Fr Nick Punch – Dominican, Chicago USA
The retreat begins with the weekend Masses. Joan and Nick will be present and preach the homilies. All sessions Monday – Wednesday will be held at St Joseph's Church. All are welcome
Session 1 – Monday August 12, 7 pm 
Session 2 – Tuesday August 13, 10 am
Session 3 – Tuesday August 13, 7 pm
Session 4 – Wednesday August 14, 10 am
Session 5 – Wednesday August 14, 7 pm
ALPHA
What is it? – the Alpha experience provides us a place where you can invite friends and family who do not go to church or who question God and faith. They will enjoy a meal, meet new friends and learn more about faith and God in a non-threatening environment that reveals God personally.
When, Where? – Tuesday evenings from August 20, in the parish hall.
Further Information – Engelbert D'Souza; engelbert.dsouza@yahoo.com / Deacon Steve Fraser; stephenf@cda.org.nz