ST JOSEPH'S CATHOLIC


SCHOOL
TAKAPUNA
2019/23 – July 26
Next week we have the Life Education mobile classroom arriving at our school. The Life Education Trust has mobile classrooms throughout New Zealand. Life Education is a charity that educates and empowers children to make healthy choices so they can live full and healthy lives. Every year they teach over 250,000 children about their body, friendships, their identity, food and nutrition and helpful and harmful substances. The mobile classroom will be at our school from Friday August 2 to Wednesday August 14. Harold and his educator Jenni Gilbertson will be covering these 'big questions' for the Teams:
Kiwi – What makes me a good friend? What can we do when we have problems?
Kea – What makes me a good friend? How do we know what other people could be feeling?
Kakapo – How can I tell from the packaging whether food is healthy or not? Where does our food come from?
Kakariki – Why is it important to show empathy towards others? What can we do when we have problems?
Parents are welcome to come the the Whanau Session on Monday August 12 at 3 pm – 3.30 pm, to view the mobile classroom and hear an overview of the programme.
When I welcome new families to our school I talk about the importance of communication in an organisation our size. Over the last few years we have refined the way in which we communicate. These refinements have addressed concerns by parents about receiving too many communications that were not relevant and too many repetitive communications.
The most important communication line is between the teacher and the parent. If you have any concerns or queries please either approach your child's teacher when you are dropping off or collecting your child or send them an email. Teachers can then respond to your query either in person or by email or phone call.
These are the ways in which the school communicates with our parent community ;
teacher/team email
school newsletter/notices via email
school website – calendar
home group/team/school hard copy notices in reading bags/school bags
Through these communication systems we are able to ensure parents are receiving information relevant to them and on an as needs basis.
A friendly reminder that I am offering parents the opportunity to meet for coffee to hear from myself and members of the leadership team about aspects of learning and teaching at St Joseph's. I anticipate these information sessions will be thirty to forty-five minutes long.
Monday August 5: Our Education Review Office Report – 9.15 am and 6.30 pm
Thursday August 29: Our Learning Space – 9.15 am
Wednesday September 18: Self Directed Learning – 9.15 am
Please note the change of dates for the second and third sessions, from those that were originally advertised.
God bless
Alister Bridgman
Monday 29 July
8.50 am  – School Prayers
Lunch Time Clubs – Kapa Haka
Tuesday 30 July
Rugby Promo Day – Whole School
Tokyo City High School Student Visit
Wednesday 31 July 
Lunch Time Clubs – Drama / Cultural Group
Thursday 1 August
8.15 am – Choir
Friday 2 August
Life Education
Mandarin
Kakapo – Kiwi Ball
HG 1:
On the 4th of June, HG 1 were all super excited because they were about to get on the bus to Milford school for Waterwise. Waterwise is something all the Kakariki teams have been doing over Term 2. Once HG 1 had arrived at Lake Pupuke, they were split into 2 groups. The first group started with sailing and the second group kayaking. Ms Miles went kayaking with the second group. Amber a year five sadly capsized while sailing but she was okay.
By Stella
HG 2:
On the 14th of May we went to Milford School for Waterwise. I was super duper excited, when it was time to start. We split into two groups, one for kayaking and one for rigging the optimists. When we were Kayaking we all stopped in the middle of the lake and stood on our kayaks  and walked across all of them. That was the part that made me ultra scared. We then had to do a floss on them. While returning to shore we did a kayak race. Ana's mum came first, Julia came second, Karen came third and Sasha came fourth.
Isabella told me that she really enjoyed sailing and wasn't nervous at all. But she said that the toughest part was putting the heavy boats away at the end.
By Karen
HG 3:
On the twenty-first of May, Home Group Three set off for a fun and educational day on Lake Pupuke. Mr O'connor and the students arrived at the lake after a short bus trip. Once Morning tea was eaten, everyone went to the water's edge and groups were assigned for the first activity.
Finally, at the end of the two sessions it was time to pack up. Several of the students worked together to lift the heavy boats up the steep hill. Other students worked in pairs to carry the sails inside, while others carried the paddles inside the storage area.
After this exciting adventure everyone felt exhausted but all had an incredible experience.
By Beth
HG 4:
On Tuesday the 7th of May 2019 HG4 went to waterwise our activities  were rigging the boat, sailing and kayaking. We had an amazing time.
A fact that we learnt was that Lake Pupuke is a volcano. 
We also learnt how to do a figure eight.   
By: Ava 
HG 5:
It was HG 5's turn to go to waterwise. Yay! We were all so excited. It had been postponed for a week due to bad weather! Ms Douthwaite reminded us to bring our things from home. We travelled by bus to Milford school and then walked down to Lake Pupuke.  We laid down our things and ate our morning tea while the parents and teachers set up. 
The view was magnificent. The kids got separated into three different activities. Kayaking, rigging the boats and sailing, too bad it was such a beautiful day, but there was no wind in the beginning. It finally picked up while I was doing kayaking. We all had so much fun. Thankfully no one capsized!
By: Madeline
First a waterwise instructor demonstrated on how to rig an optimist. 
There are many parts of an opti like the sail, sprit, mast, boom, tiller, rudder, mainsheet, centre board, kicker, painter and the bailer. We started rigging the optimist by wrapping the painter around the mast twice. The painter is used by other boats to tow you in case you need towing. Next you put the sprit on the sail. Then you fix the mainsheet in a W and attach the tiller and rudder to the back of the boat.
We learnt that the front part of the optimist is called the bow, the back part is called the stern. Left is called port and right is called starboard. After the kayakers returned we started to sail our optimist in partners. When it was our turn we were so excited. 
You sail an optimist by holding the tiller ( which is your steering wheel ) and your mainsheet (which controls your speed ). If you want to go left you push/pull the tiller to the right. If you want to go right you must push/pull the tiller to the left. If the boom is on your side then you  have to shift to the opposite side otherwise you'll capsize. We had to sail around the blue buoy that was afloat on the surface of the water. 
After we finished our lunch and checked our life jackets, we hopped into a kayak each. Our kayak oars were easily slicing through the water as we glided along. Then we packed up all the kayaks, optimists and IRB. When we were on the bus to school I wished I could redo the whole day again.
All the classes had heaps of fun.
By Stella HG 1, Karen HG 2, Beth HG 3, Ava HG4 and Madeline HG 5
Dear Parents and Whanau (families)
This term we are looking towards celebrating the unique cultures of our school and the wider world. We want students, families and teachers to learn from each other as we incorporate different cultures throughout our learning. 
During term three we are working towards sharing a cultural day in Mercy Week (Friday 27th September). Every Thursday afternoon from 1.40 – 2.30 students will be choosing a culture that they identify with or are passionate to learn more about.  Students will participate in a range of activities to learn more about that culture e.g. language, singing, dance, art, information and traditions.
We would like to encourage any parent or family member who could help us lead a group of students in a culture that they identify with. 
Some cultures that we have identified within our staff are:
Maori, Samoan, Coration, Irish, Chinese, French, Filipino, Indian
If you are available Thursday afternoons to help support or lead one of the cultures listed above or could add to this list please email annettew@sj.school.nzwith your name, child's name, their Home Group and the culture that you are interested in.
Many thanks
Annette Woodhead
Get a group together for the St. Joseph's School quiz night, which this year will be held at Fantail & Turtle.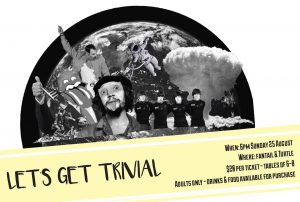 Date: Sunday 25, August
Time: 6pm
Location: Fantail & Turtle Bar & Restaurant, Smales Farm 72 Taharoto Road, Takapuna
Ticket price: $20 per person(tables of 6-8 only), please pay by bank deposit into the PTFA account and return your slip to receive your confirmation email.
Limited tickets available on a first in basis.
Food & drinks available for purchase at the bar. 
This is a fun adults only evening supporting the school. We are fundraising to reach our target for the extension of playground equipment.