ST JOSEPH'S CATHOLIC


SCHOOL
TAKAPUNA
2019/28 – September 2
A big welcome to …
Francilla
We know she will have a wonderful time here at St Joseph's
Media reports over the weekend were focused on the number of cases of measles in Auckland. If we are notified of any cases of measles in our school community we will inform you through a notice via the email and school website.
It is important at this time that you are aware of whether or not you and your children are vaccinated. If you are not sure or have any questions to do with measles I strongly recommend you contact your family doctor. There is comprehensive information about measles on the Ministry of Health website.  This includes information on symptoms and prevention. 
SAVE THE DATE – Sunday December 8
Event: – School End of Year Christmas Show
Performers: – All students of St Joseph's School, world famous opera singer Simon O'Neill, Peter Thomas (Conductor) and the Auckland Symphony Orchestra
Audience: – Parents, whanau and friends of St Joseph's School
More information to come through the school newsletter.
Thank you to the parents who supported the PTFA Quiz Night. It was a wonderful opportunity for parents of our school community to come together for a fun evening. Thank you to the PTFA for organising this occasion for our parent community.
Kia pai tō rā whakatā
Maanakitia e te Atua
Alister Bridgman
Tumaki
Monday 2 September
8.50 am – School Prayers – School Hall
Team Kiwi – Gymnastics North Harbour
Tuesday 3 September
Lunch Time Clubs – Chess / Indian Culture Group Practise
Wednesday 4 September
9.15 am – Team Kakariki Leading Parish Mass
Lunc Time Club – Kidzcan Drama
Thursday 5 September
8.15 am – Choir
Team kea – Skytower Trip
Cluster Cross Country
1.30 pm – Cultural Afternoon
Friday 6 September
Team Kiwi – Financial Literacy
Cluster Cross Country Saver Day
Mandarin
12.40 pm – Rugby Skills Clinic
Sunday 8 September
10.00 am – McAuley House Mass
The Very Gross Thing That Happened to me Yesterday
Do you know everyone and everything on earth has to do it's dirty business somewhere? That is what I learnt yesterday. You wouldn't think that a graceful animal such as an elephant would do that would you? But even elephants do need to go. At least Angeline could do it someplace else, she did her toilet stuff directly in front of me literally if you drew a line (with a  ruler ) from my face to her backside you would find that I am right. It was totally gross! And to make matters worse I was eating thanks very much I thought, now that put me off my food and if I be honest with you, I can say that not many things put me off my food when I'm hungry. If you've seen anything grosser contact me…
By Elliott HG 12
Our Awesome Zoo Trip
Yesterday we arrived at the zoo pumping with joy because  we were so excited! There were so many things to do that I didn't  know what to do first. I know, we need to organize a meeting place so that if we got lost we would go looking for each other at the same place! My group saw some amazing animals like the meerkat's .When we entered the tunnel the meerkats were above our heads here and there so we were bursting with laughter. Oh and we can't forget the penguin they are so cute but it's sad that some lost their flippers.The seals were super and they were like showing off diving while doing loop the loop. Also, when we ate lunch one of the elephants pooped and peed at the same time. I screamed my head off. We even went to the pigs and they were so stinky. Why can't they be happy bathing all day instead of rolling in the mud all day long? At last we had to leave and I was very sad but we will come back one day.
By Hayley HG 12
Zoo Trip
At first we went to see the enormous pooping elephants

Then we went to the lions with fluffy manes

Then we went to the giraffes with enormously long necks

Then we went to the dark enclosure of the small kiwis

Then we went to the scary eel enclosure

Then we went to see the meerkats/tunnels

Then we went to the stinky snorty pigs

Then we went to the amazing playground
By Charlotte HG 12
Team Kakariki / McAuley House Mass
Parents and whanau are welcome to join the Team Kakariki and McAuley House students at their respective Masses in the coming week. School Masses are a wonderful occasion at which our students support Father and parishioners in the celebration of Our Lord. 
Team Kakariki will be leading the 9.15 am Wednesday September 4 Mass and McAuley House students will be leading the Sunday 10 am Parish Mass. We look forward to seeing family and friends at these Masses supporting their tamariki.
As a school community we are very generous in supporting those in need. Each year we participate in the CAN DRIVE. Cans For Christmas is an opportunity for students in Catholic Schools throughout Auckland to bring in a can of food for a family in need. The cans are given to families in time for Christmas. Thank you for your support. Please ensure the 'used by' or 'best by' date is at least in 2020.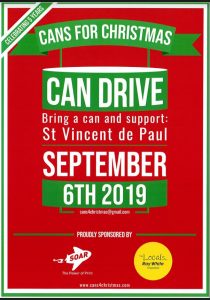 Thank you for ensuring your child is in the correct uniform