ST JOSEPH'S CATHOLIC


SCHOOL
TAKAPUNA
2019/32 – October 1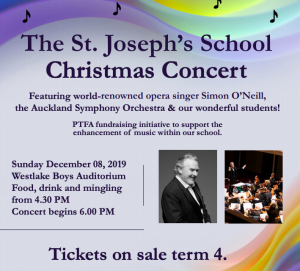 Friday September 27, the last day of Term 3, was a wonderful day of celebration for our school community. The day began with the school attending the Parish Mass at 9.15 am. For the school it was the Mass at which we celebrated our school's foundation Order, the Sisters of Mercy. The Mass was celebrated by Monsignor David Tonks. Our students led the Mass welcoming parents and parishioners, reading the liturgy of the word, prayers of the faithful, and bring the gifts to the altar. The students sang in full voice supported by our St Joseph's School choir. It certainly was a wonderful Mass thanks to all to the students and teachers.
Following morning tea for parents, whanau and parishioners, in the staffroom, students met in the hall to share what they had learnt in their culture groups. Each Thursday afternoon over term three the students learnt about a culture that they had chosen. Students, parents and teachers led the twelve cultural groups and the outcome saw each cultural group sharing what they had learnt with the students and their whanau. It was a stunning celebration which began and ended with the Junior and Senior Kapa Haka groups respectively. The various groups shared what they had learnt through a variety of mediums including dance, singing, art, drama, and the presentation of facts. It was wonderful to see so many of our parents and whanau being part of this amazing celebration of some of the many cultures that are a part of our school community.
Our students have had another great term of learning. One of the highlights was the speech competition in which every Year 5/6 student participated. This year they had the choice four styles of speech: Spoken Word, Rap, Flash Talk and Persuasive Speech. Spoken Word and Rap rely on a heavy use of rhythm, improvisation, rhymes, word play, and slang. Flash talk is when students speak to ten slides which are displayed for ten seconds each. A persuasive speech is the traditional speech. Students wrote their speeches and then presented them to their home group. The best of each category from each home group was put forward to the finals. Congratulations to:
Spoken Word: 1st Julia HG1 / Rap: 1st Charlie HG3 / Flash Talk Y6: 1st Mia HG4, 2nd Stella / Persuasive Y5: 1st equal Charlotte HG 2, Meera HG4 / Persuasive Y6: Hunter HG 5
Manaakitia e te Atua
Alister Bridgman
Tamauki
October
14 – Monday – Day One Term Four
15 -17 – Kakapo & Kakariki Swimming
22 – 24 – Kakapo & Kakriki Swimming
28 – Monday – Labour Day – School Closed
November
1 – Friday – School Mass 9.15am – All Saints Day
3 – Sunday – Alphonsus House Mass 10am
22 – Friday – Year 3 – 6 Athletics Day
28 – Thursday – Junior Athletics Demonstration – Years 0 – 2
December
8 – Sunday – School Christmas Concert at Westlake Boys
12 – Thursday – Final School Mass 9.30am
17 – Tuesday – School Closes 1pm
Please regularly check the school calendar and the weekly school newsletter on the school website for all the dates for the term
Navy skorts/culottes or navy tunic (GIRLS)
Navy shorts (BOYS)
Short or long sleeved red shirts (monogrammed), 
Hats (Terms 4 & 1) Navy blue sun hat (wide brimmed or bucket – no label)
Black sturdy sandals
Uniform Rules
The girls' skorts/culottes or tunic are worn all year round

Parents will be able to choose whether children wear short or long sleeved shirts on any given day

Children may only wear the official school polar fleece top or vest or red shirts with St Joseph's monogram

Children will be required to wear sandals in summer and shoes in winter

Only culturally appropriate jewellery to be worn, under their shirt

Long hair is to be tied back with plain navy, red or black hair ties/headbands

Only plain studs or sleepers may be worn

It is compulsory for children to wear the sunhat during Term 1 and Term 4
Uniforms can be purdhase at:
Janbells
Shop 7
408 Beach Road, Mairangi Bay
Phone: 478-3450
Hours: Monday – Friday 8:30am – 5:30pm, Saturday 9:00 – 3:00pm
School Ski & Snowboard Championships
The Auckland Primary School Ski & Snowboard Championships will be held on Tuesday 22 October at Snow Planet and we are looking to enter a team to represent St Joseph's. This competition is open to all Year 1 through 6 students who are competent skiers or snow boarders who are keen to gate race. Parents must be responsible for your own child and will need travel with them to this event.
The Entry Fee is $57.50 per athlete and the day will start at 8am with bib pick up.
If your child is interested in competing, please contact rachel@leefishnz.co.nz by Friday 11 October.
Parish
PARISH PLANNING – Our Diocesan general manager has agreed to help us with a planning process to:
Help us to be practical and specific about being missionary disciples of Jesus on the North Shore; and

Help us decide how we can best use our parish resources for our mission
The process will challenge us to consider our properties at Takapuna, Milford and Bayswater; to make decisions about the Takapuna land footprint, which includes the church, St Joseph's school and the old orphanage and Rosmini College.
We invite as many parishioners as possible to participate in this process.
The first session will happen twice – choose to come to either Sunday October 20 1.30 pm – 4.00 pm or Tuesday October 22 7.00 pm – 9.30 pm at St Joseph's Parish Hall.
The second session will be held Tuesday November 26 November 7.00 pm – 9.30 pm.