ST JOSEPH'S CATHOLIC


SCHOOL
TAKAPUNA
2019 / 33 – October 15
Welcome to Term 4. Seventy four sleeps till the birth of our Lord Jesus Christ!
We have an exciting term ahead continuing our theme for the year, Whakapapa. It was wonderful to be able to welcome new families and students from current families today, our first day of the term. We all form part of the story of St Joseph's and the whakapapa, the heritage. 
This term each team has its own theme that comes within the overarching theme.
Team Kiwi: Kiwi Christmas
Team Kea: Performance
Team Kakapo: A Passport to the World
Team Kakariki: Living World
This term will see our students preparing for our Christmas Concert. This is on Sunday December 8 at Westlake Boys College auditorium. The students will be singing with world renowned opera singer Simon O'Neill and with the Auckland Symphony Orchestra who are conducted by Peter Thomas. This will be an amazing experience for our students. Tickets will be on sale early this term. Please mark the date on your calendar.
This term sees our students and their whanau generously supporting Operation Christmas Child. We encourage all families to support this outreach programme. Families can either bring Christmas items to the Home Groups to be put in a Christmas Box or fill their own Christmas Box. Miss Luxford has a letter in this newsletter with all the information about this wonderful way in which St Joseph's students and whanau support children inneed in the Christmas season.
At the 'Welcome to Parents of New Students' morning coffee I talked about the importance of communication. Our three forms of communication to parents are through the school newsletter, teacher emails and the school website. The school website has an app and the details as to how to load it on your phone are on the website. If you have any concerns about your child please talk to their Home Group teacher. They are only too happy to hear your concerns and support your child through their school day.
Ka manaakitia koutou e te Atua.
Alister Bridgman
Principal
Monday 14 October
8.50 am – School Prayers – School Hall
Lunch Time Clubs – Kapa Haka
Tuesday 15 October
Kakapo and Kakariki Swimming
Lunch Time Clubs – Chess
Wednesday 16 October
Kakapo and Kakariki Swimming
Lunch Time Club – Kidzcan Drama
Thursday 17 October
8.15 am – Choir
Kakapo and Kakariki Swimming
Friday 18 October
Mandarin
A big welcome to …
Aldrin, Ava, Domenic, Drew, Evelyn, Hayley, Joseph, Katie, Nathaniel, Rafael, Scarlet, Sherie, Sophia
We know they will have a wonderful time here at St Joseph's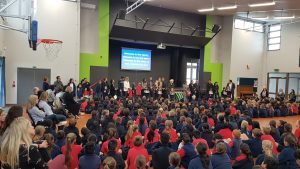 Students are to wear school sunhats in Term 4 when outside. Please ensure your child has a school uniform sunhat.
Prime Minister Jacinda Adern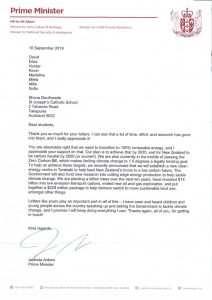 Operation Christmas Child
Dear Parents and Caregivers, 
The national collection for 'Operation Christmas Child' has begun. This year we will be supporting this appeal again by filling shoeboxes to send to impoverished children around our world. Samaritan's Purses' – Operation Christmas Child, uses gift-filled shoeboxes to demonstrate God's love in a tangible way to children in need around the world.
We are hoping to fill as many shoeboxes as possible. If you would like to support this cause you can fill shoeboxes as a family, or you could join together as a group families, to put together a box as per the instructions attached. Shoeboxes are available from me or can be a recycled shoebox smaller than a sheet of A4. Some items such as any liquids (including toothpaste) cannot not be sent, so please read the attached carefully. An example of a box is in the office foyer. 
If you are unable to put together a box but would still like to support this cause, you can donate an item/s to me, and I will work with the Special Character leaders to put donations together to fill a few more boxes. Hygiene items such as bars of soap and toothbrushes are always appreciated.
Please drop off any donations and boxes to me by Friday 1st of November in the HG 12 learning space, so I can get them to Samaritan's Purse before the container is sent.
We also ask that you will pray that every child who receives a shoebox will know that they are loved and will receive hope for the future.
If you have any questions please see me.
Thank you for your continued support, spreading God's Love and adding some Christmas cheer for many children in need!
Miss Natasha Luxford
This term parents have the opportunity to review two of our procedures; Education Outside the Classroom and Sun Protection. Please log onto school docs website via the school website: www.sj.school.nz / About Us / Policies and Procedures. Click on the Current Review tab and follow the Instructions for Reviewers.
St Joseph's Parish Planning
Our Diocesan general manager has agreed to help us with a planning process to:
Help us to be practical and specific about being missionary disciples of Jesus on the North Shore; and

Help us decide how we can best use our parish resources for our mission
The process will challenge us to consider our properties at Takapuna, Milford and Bayswater; to make decisions about the Takapuna land footprint, which includes the church, St Joseph's school and the old orphanage and Rosmini College.
We invite as many parishioners as possible to participate in this process.
The first session will happen twice – choose to come to either Sunday October 20 1.30 pm – 4.00 pm or Tuesday October 22 7.00 pm – 9.30 pm at St Joseph's Parish Hall.
The second session will be held Tuesday November 26 November 7.00 pm – 9.30 pm.
Parish Sacramental Programme
Dear Parents,
I pray everyone is in very good health and the children hopefully have had a lovely spring break.
Thank you for sending your sacramental programme registration forms.
May I request you to please choose a convenient date/schedule that you can come and be present for the Parents' Orientation session. Two dates are offered: 30 October 2019 and 31 October 2019. Both shall be at 6.30pm in the Flanagan Lounge of St Joseph's Parish. It is located below the church. Entrance is on the right side of the stairs that go up to the church.
Please transfer the fee to St Joseph Parish account: 020100-0120990-004 . Please use this for reference:  SP20TKP+ "child's surname". You can also pay in cash in the parish office. We apologise we do not have eftpos machine.
Thank you all and see you at the orientation session.
God bless,
Edwin