ST JOSEPH'S CATHOLIC


SCHOOL
TAKAPUNA
2019/39 – November 18

A big welcome to …
Alona, Noah and Thea
We know they will have a wonderful time here at St Joseph's
Congratulations to the students who were blessed at the 10am Mass on Sunday November 10. They have begun their Parish Sacramental programme. They are currently preparing for the Sacrament of Reconciliation with the support of their parents. They will then go on to prepare for, and recieve the Sacraments of Confirmation and First Holy Communion. Please keep them in your prayers.
In the coming weeks parents will be recieving a Community Engagement Survey by email. The Board and the Senior Leadership Team are beginning the planning process for the 2020 school year. The Community Engagement Survey is completed by the students, teachers and parents, and will inform the Senior Leadership Team and the Board as to possible ways in which to develop the school's strategic plan. Thank you in advance for completing the survey.
Last Friday our Principals for the Day, Charlotte and Hamish enjoyed running the school. They were supported by Violet and Joss. As Principal's Hamish and Charlotte welcomed Riley Hathaway from Young Ocean Explorers, on Wednesday afternoon. Riley spoke to the whole school about her and her father's ocean adventures. She also shared with the students the importance of picking up rubbish in order that it doesn't find its way to the sea. Charlotte and Hamish incorporated this idea in their Principal Day. They encouraged the students to collect rubbish in their breaks in order to save it from going down drains or making its way to the sea. Charlotte and Hamish were very pleased with the number of students who collected the rubbish and they rewarded them with house points. They were very grateful to the families for the gold coin donations for the Hospice. We raised $470. Thank you. Thank you to Hamish and Charlotte for being such wonderful Principals.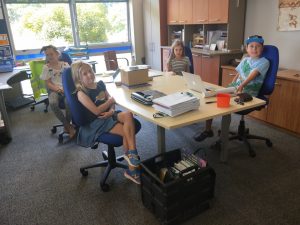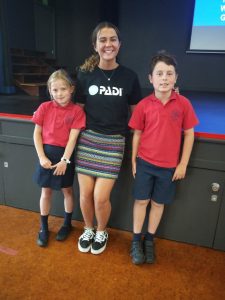 Wishing you all a great week.
Ka Manaakitia e te Atua
Alister Bridgman
Tumuaki
Monday 18 November
8.50 am – School Prayers – School Hall
Kiwi Home Group Photos
Choir Kids 4 Kids Theatre Rehearsal
Waterwise Regatta
Lunch Time Clubs – Kapa Haka Group
Choir Kids 4 Kids Concert – Bruce Mason Centre
Tuesday 19 November
Waterwise – HG 3
Lunch Time Clubs – Chess Group
Wednesday 20 November
Lunch Time Clubs – Kidzcan Drama / Pasifika Culture Group / Festival of Football
6.30 pm – Parish Sacramental Programme
Thursday 21 November
8.00 am – Choir
Friday 22 November
Athletics Day – Years 3 – 6 – Onewa Domain
Mandarin
This coming Friday our Year 3 – 6 students will be participating in our school athletics day at Takapuna Athletics Track, Onewa Domain . All students are to come directly to school in the morning in order that they can be marked as present at the morning roll call. All students will need:
School PE uniform including sports shoes

School hat

School jacket or vest 

Large morning tea and lunch

Large full water bottle

Sunblock spray/cream
Students will travel to and from Onewa Domain by bus. If parents are taking their child/ren home at the end of the day directly from the park they will need to inform the child's teacher in person at the time they are taking them.
Parents are welcome to watch their children participating in their athletics events from the surrounding banks.
Have You Got Your Tickets?
Christmas Concert Update
More than 1,000 tickets sold – only limited tickets left. Get in quick so you don't miss out!
Seven Sharp:
Last week our concert preparations were featured in a fantastic piece on TVNZ's Seven Sharp. If you missed it, check out the PTFA Facebook page (www.facebook.com/StJosephsTakapunaPTFA) which has a link to the clip.
Get your tickets + DVDs:
Our children are all working hard on their performances and excitement is building.  The shows now only three-weeks away, so if you haven't got your tickets yet, jump online and grab yours before they sell-out!
Don't forget you can also purchase a DVD or USB recording of the concert through the iTicket site, which will also include fantastic behind-the-scenes footage of the children preparing for the event. 
You can book tickets and buy DVDs/USBs here: www.iticket.co.nz/events/2019/oct/stjosephs

Raffle tickets:
Thanks to the generosity of the local community, the PTFA has also been able to organise a raffle that will be drawn at the concert.  The raffle includes some amazing prizes worth thousands. 
You can pre-purchase your tickets ($5 or 3 for $10) through the school office (cash only) or tickets will also be available on the night. Check out the posters around school or the PTFA Facebook page for information on what you can win.  
Thank you for your support of this event – it will definitely be a night to remember!
Please Support Our Sponsors
Once upon a starry night…
A BIG thank you to all our Christmas concert sponsors for their support and generosity!
If you have an opportunity to support these businesses, please do.
GOLD Sponsors

                 Sky Sport NZ Breakers

              North Harbour Auto Electrical
SILVER Sponsors

    North Shore Toyota

         Woodview Construction

                             Global Signage Concepts
RAFFLE Sponsors
MANY THANKS also to …
* If you are interested in becoming a sponsor of the St. Joseph's Christmas Concert, please email bridgetallennz2@gmail.com
Parish
PARISH PLANNING – Thank you to everyone who participated in our Sunday afternoon and Tuesday evening planning sessions. A summary of these sessions will be held at a meeting on Tuesday 26 November 7-9.30pm in St Joseph's Church Hall.
DIOCESAN VACANCY –  The Catholic Diocese of Auckland is seeking an administration assistant to the Leader of the Pastoral Services Group. This is a part time position of 4 hours Monday – Friday with occasional weekend and evening work. We are seeking an enthusiastic person with strong digital skills able to respond to a variety of needs and responsibilities. Applications close 26 November 4.00pm. Further details to be found at https://www.aucklandcatholic.org.nz/administration/ staff-vacancies/
ANGEL TREE CHRISTMAS GIFTING – We will have Angel Trees at the doors of our 3 Churches next Sunday for gifting to Monte Cecelia House and members of our own community.
RITE II – First Reconciliation For children in the Sacramental Programme – Wednesday 4 December at 6pm. After the children have completed their Reconciliation, all are welcome. RITE II At St Joseph's Church, 7pm on Tuesday, 19 December.