ST JOSEPH'S CATHOLIC


SCHOOL
TAKAPUNA
2019/40 – November 25

Dear Parents
Congratulations to our choir who performed at the Kids 4 Kids Concert last Tuesday evening. They performed with choirs from schools throughout Auckland at the Bruce Mason Centre here in Takapuna. The Kids 4 Kids Concert is an annual event and this year the funds raised supported the Salvation Army's Christmas Appeal. The NZ artists that the students performed with were Jackie Clarke and Nathan King. It was an AWESOME evening of singing by the students and it was wonderful to see them all having such fun. Our thanks to Mrs Linehan and Mrs Atkinson who have been supporting the choir this year. They are now continuing their preparation with Simon O'Neill for the Christmas Concert.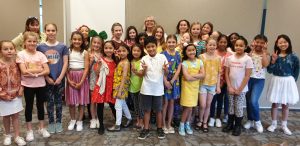 Over the last week Mrs Atkinson has been completing her final tasks in preparation for begining her maternity leave. Mrs Atkinson and her husband Mr Nikolic are expecting the arrival of their first child at the end of December. We thank Mrs Atkinson for all she has done for her Home Group, Team Kea and the school during her time with us this year. We look forward to catching up with her and her new baby in the new year, and her return to teaching at St Joseph's in late 2020.
The Ministry of Education have allocated eight teacher Only Days to Secondary and Primary School Teachers. These are to be used before the middle of 2022. In 2020 we will be using three of these days. We have aligned two out of three of our days with the Carmel and Rosmini Teacher Only Days. The dates for our 2020 school year are further down in this newsletter.
Last Friday saw Teams Kakapo and Kakariki enjoying their Athletics day at Onewa Domain. We were blessed with amazing weather and the support of wonderful parent volunteers. The students thoroughly enjoyed participating in the various athletic events in the house teams. Thanks to the sports leaders who looked after their teams. A special shoutout to the parents volunteers and teaching team who supported the students and each event ensuring everyone had a go and had fun. A very successful day was had by all.
Thirty sleeps till the birth of Our Lord Jesus Christ.
Have a great week.
Ka Manaakitia koutou e te Atua.
Alister Bridgman
Tumuaki
Monday 25 November
8.50 am – School Prayers – School Hall
Lunch Time Clubs – Kapa Haka Group
Tuesday 26 November
Waterwise – HG 2 & 5 Year 6's
Lunch Time Clubs – Chess Group
7.00 pm – Parish Planning – Parish Hall
Wednesday 27 November
Lunch Time Clubs – Kidzcan Drama / Pasifika Culture Group / Festival of Football
6.30 pm – Sacrament of Reconciliation Programme
Thursday 28 November
8.00 am – Choir
1.30 – 2.30 – Teams Kiwi and Kakapo Athletics – School Fields
Friday 29 November
Kiwi Ball – Team Kakapo
Tiritiri Matangi – Year 5s Team Kakariki
Mandarin
On the 18th of November twelve students went to this regatta from St Joseph's. They competed against four different schools; Milford, Takapuna, Forest Hill and Campbells Bay. To start the day off, the boys went kayaking first. It was a very challenging race. From our school Jono was representing us in Heat 1. Kevin represented us in Heat 2 and lastly Liam represented us in Heat 3.  He was the only one who was placed second. He went to the finals and came fourth.
After that the girls kayaked and representing us in Heat 1 was Mia. She was placed fifth but someone was disqualified so Mia got placed fourth. In Heat 2 Grace came fifth. In Heat 3 Keira came fifth.
The girls sailing team was Danielle, Sofia and Ana. Ana went first and came back to the dock first. Then Sofia got in the boat and on her way out she got caught in between two boats but somehow she came back first. Danielle then went and by the time she got in it started pouring with rain. We were all screaming our hearts out for Danielle to come back HURRY COME ON WE CAN WIN! We all screamed, then she got back to the dock, we grabbed her and she got out and by that time we had won.
It was the boys turn next to go sailing. Jacob went first and then we had to restart the race so Jacob went again. Then Hunter went and got stuck at the buoy while turning, but he did well. Ethan went next and he went as fast as he could. Then while he went around the buoy he nearly capsized but managed to right the boat again and kept going. We managed to get second place.  
Christmas Concert: Only two-weeks to go!
All students are performing in the show
All our wonderful students will be performing in the Christmas concert on Sunday December 8.  Notices will be coming home shortly with each child regarding the time they will be required at the event, logistical information and any costume requirements.
A special thanks to our amazing teachers who are working so hard to support the children with their performances.  
Excitement is building
Check out an article The Rangitoto Observer ran on our concert in its Nov. 22 issue.  You'll find the article on page 20 via this link: https://rangitoto-observer.co.nz/wp-content/uploads/2019/11/RangiObserver2019Nov22.pdf
Get your tickets + DVDs:
If you haven't got your tickets or ordered your concert DVD yet, jump online and grab yours before they sell-out! Book tickets here: www.iticket.co.nz/events/2019/oct/stjosephs
Raffle tickets:
Raffle tickets are available for pre-purchase ($5 or 3 for $10) through the school office (cash only) or tickets will also be available on the night. Check out the posters around school or the PTFA Facebook page for information on what you can win.  
Request for help: anyone have a covered trailer??
Does anyone have a covered trailer that they might be willing to use to pick-up and drop-off the chairs we'll need for the orchestra? Pick-up will be on Saturday 7, December, with the chairs then needed to be dropped off again after the concert on the Sunday evening?  If so, please get in touch with Bridget on bridgetallennz2@gmail.com
Thank you for your support of this event – it will definitely be a night to remember!
Please Support Our Sponsors
Once upon a starry night…
A BIG thank you to all our Christmas concert sponsors for their support and generosity!
If you have an opportunity to support these businesses, please do.
GOLD Sponsors

                 Sky Sport NZ Breakers

              North Harbour Auto Electrical
SILVER Sponsors

    North Shore Toyota

         Woodview Construction

                             Global Signage Concepts
RAFFLE Sponsors
MANY THANKS also to …
* If you are interested in becoming a sponsor of the St. Joseph's Christmas Concert, please email bridgetallennz2@gmail.com
Term 1:     Monday 3 February to Thursday 9 April
Thursday 6 May – Waitangi Day – School Closed 
Monday 16 March – Teacher Only Day – School Closed for Students
Friday 10 April – Good Friday – School Closed
Term 2:     Tuesday 28 April to Friday 3 July
Monday 27 April – ANZAC Day – School Closed
Friday 29 May – Teacher Only Day – School Closed for Students – Rosmini & Carmel Colleges Closed
Monday 1 June – Queen's Birthday – School Closed
Term 3:     Monday 20 July to Friday 25 September
Thursday 6 August – Teacher Only Day – School Closed for Students – Rosmini & Carmel Colleges Closed
Term 4:     Monday 12 October to Tuesday 15 December (To Be Confirmed) 
Monday 26 October – Labour Day – School Closed
PARISH
PARISH PLANNING – Thank you to everyone who participated in our Sunday afternoon and Tuesday evening planning sessions. A summary of these sessions will be held at a meeting on Tuesday 26 November 7-9.30pm in St Joseph's Church Hall.
ANGEL TREE CHRISTMAS GIFTING – We will have Angel Trees at the doors of our 3 Churches next Sunday for gifting to Monte Cecelia House and members of our own community.
RITE II – First Reconciliation For children in the Sacramental Programme – Wednesday 4 December at 6pm. After the children have completed their Reconciliation, all are welcome. RITE II At St Joseph's Church, 7pm on Tuesday, 19 December.
Today the Rosmini building project has begun with the installtion of a new drive. This will not impact on our school drop-off and pick-up. The drive entrance is next to the Summit School drive entrance. Please be aware that if you are driving up Fred Thomas drive to the lights or exiting onto Fred Thomas Drive, that there will be an additional drive that trucks will be entering into and exiting from. This new drive will be in place for the remainder of this year and all of 2020.