ST JOSEPH'S CATHOLIC


SCHOOL
TAKAPUNA
Dear Parents / Caregivers
Yesterday the Government announced that the country is staying in the "Orange" setting of the Covid Protection Framework. This will see the school continuing with the procedures we put in place at the beginning of this term, with the exception of two changes from this term:
Beginning of the Day:

Students will be able to play in the quad area between 8.15 and 8.45am 

or

go directly to their learning space.

The first learning block commences at 8:50am

.
End of Day: Students will NOT be released until 2.50pm.

Please do not come to school expecting to collect your child prior to this time

.
We will continue with:
Parents can enter the property at drop-off and pick up.
Parents are asked to stay out of the learning spaces.
Parents wear masks on site.
To reduce congestion, parents are asked to stay off porches in front of the learning areas.
There will be no school wide gatherings inside.
Thank you for supporting the procedures we have in place to reduce the transmission of COVID and winter illnesses.
The following topics will be covered in this weeks Principal Message:
YCC Mufti Mania

End of Term 2

Waterwise

Year 5/6 Camp

Year 6 Netball Tournament

PTFA Fundraiser Updates

Community Notices
Ka manaakitia e te Atua
Alister Bridgman
Tumuaki
YOUNG CARITA COMMUNITY MUFTI MANIA ("WEEKEND WEAR")
Next Friday, July 8th we will be having the YCC Mufti ("weekend wear") Mania Day. This mufti day is held by all NZ Catholic primary schools on the final day of term two each year. Please could your child come along in mufti and bring a gold coin as a donation.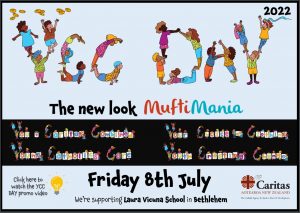 Friday July 8th is the last day of term two. The day will end at the normal time: 2.50 pm.
Term three begins on Monday July 25th at 8.50 am.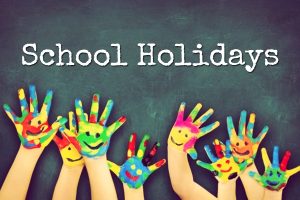 Waterwise Programme 2022
Over Terms 1 & 2, The Kakariki Team participated in a very successful Waterwise Programme.
Initially, each class completed a land based training in the hall with Megan Street, followed by two practical sessions at Lake Pupuke.
The first practical session was a safety capsizing session, followed by sailing an optimist boat with a partner. The second session involved sailing an optimist individually and learning how to kayak.
The Waterwise Programme is an absolute highlight for the children and they learn many skills, such as: water safety, self-confidence, how to tie knots, kayaking & yachting skills, as well as pushing themselves outside of their comfort zone and encouraging their friends.
The Kakariki Team would like to thank all of the parent helpers that helped out with their child's class sessions, as without their help, programmes like this are not possible.
We would also like to acknowledge all of our amazing trained Waterwise instructors who volunteered their time and supported the children over multiple class sessions: 
Michelle Hall, Camille Coom, Fallyn Buchanan, Ian Baker, Craig McMenamin, Richard Robinson, Eric Esnouf, Marcelo Da Silva and Sean Cocks.
A special thank you to Megan Street, one of our valued staff members who helped to run and co-ordinate the Waterwise Programme. Her knowledge and passion was greatly appreciated.
If you are interested in becoming a trained Waterwise Instructor, so you can help out with Waterwise sessions in the future, please contact megans@sj.school.nz or laurab@sj.school.nz 
Carey Park Camp
Monday 16 May to Wednesday 18 May, 2022
By Gabrielle, HG4
Finally it was the day! The day we had all been waiting for. It was the day when we were going to school camp! Everyone was thrilled and there was excitement in the air. 
We arrived at Carey Park Camp, some by bus and others driven by their parents. As soon as we reached our destination, we rushed inside, not wanting to miss a single moment of our time there. Inside, one of the instructors told us all that we needed to know about the camp. Then it was time to check out our cabins – we raced across to our cabins to get settled in. After that, it was time to explore – everyone was buzzing with excitement. 
Later on in the day, we played some fun games in our activity groups like gumboot toss, beanbag throw, rainbow crawl and more. It was a race against time and we had to gather as many points as we could. Every team wanted to win! 
After lunch, at about noon, we were asked to get ready for our activities. There were so many different exciting activities like rock climbing, raft building, archery, confidence course, kayaking, ziplining, and bush survival. Each team completed two activities on the first day. After the activities it was time for free play on the equipment like the humongous trampolines or the water hole, which had a super fun water slide. Most kids chose to go to the water hole – the water was icy cold… it felt like stepping into a freezer, but we loved it. There was screaming and laughing all around.  
Soon it was time for showers and dinner. The dinner was delicious and we were all so hungry! Then it was time for the very exciting night activities – the burma trail and the bonfire. At the bonfire, Mr O'Connor told us some creepy stories that made some of us scared. We sang many camp songs, danced in the rain, ate smores and shared some more scary stories. We had the best time ever, we didn't want it to end. After a thrilling hour of having loads of fun, we went back to our cabins, feeling very tired. We got ready for bed but we couldn't sleep for a very long time as there was so much to talk about! 
The next day when we woke up, we were so eager for the rest of the activities that we got dressed as soon as we could and hastily had our breakfast. There was a whole day of fun fun fun activities. I loved ziplining across the field and hanging upside down, it was so thrilling. 
All of a sudden, it was the last day at camp and we were all so sad… We had one final activity to do – rainbow tag! We got our parents and teachers involved in it and they tried to tag us (with not much luck) as we were too quick! It was so much fun, we loved it. 
Finally, it was time to leave and we were all very disappointed that it had to end. Everybody loved being at Carey Park Camp, it was fun, it was exciting and it is something that we will remember for the rest of our lives. 
Thank you so much to all of the parents that gave up their time to come and help us out, we are sure that they had just as much fun as we did!
YEAR 6 NETBALL TOURNAMENT
Netball Tournament
By: Gabrielle and Aurora
It was the day of our netball Tournament, and we were all thrilled. We left school at about 8:50, and drove to the North Harbour Netball Courts. There were two teams from our school at the tournament – The Phoenix and The Dragons.
It was a cold winter's morning, and once we got there, the teams started warming up for their first game. Both teams ended up winning!  
Both teams won their second and third games as well, and The Dragons won their fourth game, and progressed to the finals! 
The Phoenix team was cheering The Dragons team on from the sideline and giving them lots of encouragement and support. The Dragons ended up winning the finals and their overall grade! They were very happy and proud! 
After the games were finished, we went to the awards ceremony, where The Dragons got a trophy and a certificate.
We all had an awesome day at the tournament, but we couldn't have done any of it without the help of the amazing parents, who came to support us, while we were playing. We really appreciate the time they took out of their day to come.
We went back to school and that was the end of an awesome day of netball.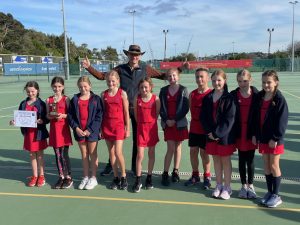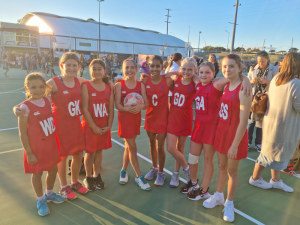 Movie Fundraiser – "Minions: The Rise of Gru", Sunday, July 3rd
The PTFA wish to advise that tickets for their movie fundraiser this Sunday are sold out. They've advised they'll have a list of all families who purchased tickets at the door (in case you don't have proof of purchase). For those of you attending the movie at Monterey Cinemas in Takapuna, they look forward to welcoming you at 12:30pm.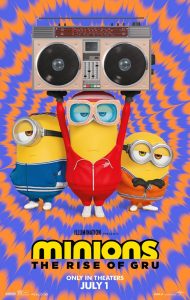 Pies, Rolls & Samosas Fundraiser
The deadline for ordering your pies, rolls & samosas has now passed. Delivery to the school will take place on Tuesday, July 5th. All proceeds will go towards the Junior Playground replacement.