ST JOSEPH'S CATHOLIC


SCHOOL
TAKAPUNA
Kia ora whanau
At school prayers this morning we welcomed Isabella, Zayden, Nicollene, Fleur, Margo, Jayred, Elvin & Noah to our school community. We know they will have a great learning journey here at St Joseph's over the next six years. 
Albany Senior High School is currently closed due to a measles case. In last week's Principal Message there was an article from the Ministry of Education regarding the likelihood of a measles outbreak in NZ. Further information regarding immunisations is available through this link. 
Whenever a child is not well please keep them home. This ensures that bugs are not shared with other students and staff.
We have some exciting news from the PTFA, who will be organising our first school Colour Fun Run on Friday, 16 June at 1:40pm. Funds raised will contribute to both short and long term goals – organizing fun events for the children throughout the year and also for our new junior playground. There will be lots of prizes up for grabs and it promises to be an exciting event which will see our kids covered in colour as they show off their running skills on the day.
Ka manaakitia e te Atua.
Alister Bridgman
Principal
The Principal's Message will cover the following topics:
St Joseph's Got Talent

The King's Coronation Celebrations

Tiritiri Matangi Trip

The ANZAC PARADE

Colour Fun Run – PTFA Fundraiser

Swimming

Community Notices
"Welcome girls and boys to the first 'St Josephs Got Talent' in four years!", the announcer shouted through the microphone. The audience, which consisted of kids and parents, roared back in excitement. "We thank all of the amazing people who auditioned and showed great Kaha (courage). So without further ado… let's get this show on the road!" 
First up we have a song: "Tightrope" from "The Greatest Showman!"
The audience went quiet and off she sang. She sang so gracefully and her voice fluttered through the air. After the last word was sung, the crowd erupted into loud applause and cheering. This was just the START of a show full of excitement and beautiful dancers, singers, pianists and more! 
And so the show continued. With the hum of amazement and talent buzzing through the air.
Next, an amazing dancer flipped through the air. Then, a pianist's skills left people gaping! 
We were amazed at how so many people had talent! And their courage too!! It was off the charts!! After the show had finished, everyone walked out,  blown away! I even noticed some of the parents looking shook up! Personally, I loved the dancing!  It was a mix between sass and culture.
What a wonderful show it was.
Reported by: Zoe B
THE KING'S CORONATION CELEBRATIONS
On Wednesday and Thursday, 26th and 27th of April, Kakariki Team went to Tiritiri Matangi.
First we went on the bus. Then we stopped at Gulf Harbour and waited for our ferry. After a while, we hopped on the ferry and set sail for Tiritiri. When we got there, we were introduced to a guide and they taught us about birds.
At the start, we went up a steep hill and the first sounds we heard were the Tui and the North Island Robin. We had a sheet where we could write tally marks when we heard or saw a bird.
We learnt a lot about birds. There were also little wooden houses for the Weta and Cockroaches. There were also little houses called sugar feeders that Hihi and Bluebells can drink out of. There were little openings big enough for the Hihi and Bluebell, but not big enough for the Tui to steal all the sugar water.
When we got closer to the top, we started seeing more birds. We saw Hihi, Bluebells, Tui, Kakariki, North Island Robins, Kakariki and even more.
If you want to see a North Island Robin up close, then scrape your foot on the ground. What that does is reveal grubs and small insects for the bird to eat. They hop up close to your foot to eat.
When we finished walking, we came up to a lighthouse. It is the oldest operating lighthouse in New Zealand. It opened in 1865.
After we ate, we watched Takahe being fed. Takahe were once thought to be extinct, but then someone found some in the South Island.
It was an interesting day and it was made more enjoyable by being out on the gulf on a lovely day, travelling by ferry with our friends.
Reported by: Michaela HG1
Reported by: Matthew M. HG3
I woke up early in the morning, looking forward to going to the ANZAC Parade.
It was a nightmare to get parking.
I searched all over to try and find St Joseph's crowd. There were so many schools! After a long time of searching I finally found my school. All the schools lined up, my school was near the back. The ANZAC band was so amazing (but it was loud)!
When the time came, we started marching through Takapuna. I saw so many New Zealand Navy, Air Force and Army soldiers.
Not long after we arrived, close to a beach. There was a giant flag with two people standing by it. In front of them were two people holding a rifle. There was a giant choir, singing ANZAC songs.
We had a few readings from the Bible; and then we had one minute of silence.
After that people from various schools came to put down a wreath. Others took the poppy off their shirt and put it near the wreath. The choir sang the National Anthem; and then a long musical song at the end.
Then it ended and everyone left quietly, to go home.
Lest we forget…
Our our first school Colour Fun Run is all about Fun! On the day your children will get to run alongside their fellow classmates and friends…!! This will be one of the most exciting days on our school's calendar, with everyone's participation the aim, so pop the date in the calendar and cheer our kids on!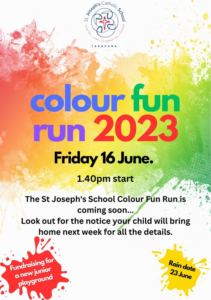 On 2nd of May around 10 people went to the AUT Millennium inter-school competition to swim in all different swimming events…  from freestyle to butterfly; and 25m to 100m.
The inter-school swimming competition was held in the Millennium Aquatics Centre pool, and it was 25 meters long (it was actually 50 meters, but they have a movable bulkhead) We had a lot of events going on, cheering for our school mates as they swam through the pool.
There was also a lot of noise and an enormous digital board showing everyone's time and place in their race when they finished swimming. We definitely know that everyone had fun.
We went to represent our school and to swim against other schools. At first it was nerve-racking. But after our first races, those nerves melted away. It was a really fun experience and I wish we could do it again.
Reported By: Jeremy & Joshua, Kakariki Team
Please check out the latest community notices  that you can find on our school website.