ST JOSEPH'S CATHOLIC


SCHOOL
TAKAPUNA
2019/5 – March 4
Welcome to the Church Season of Lent
The season of Lent begins with our Ash Wednesday liturgy. Parents and whanau are welcome to join is for this special liturgy, Wednesday 6 March, beginning 1.40 pm, in St Joseph's church. The Season of Lent is the six week period leading up to the death and resurrection of our Lord Jesus Christ.
In earlier years Lent was a time of fasting. We now encourage our students to take part in the 'Lent Action Plan'. These are available from the Home Group teacher. They provide a variety of simple activities that your child could do through Lent, or the family could do together. The activities are focused on children helping others.
How could your child help others?
Did you ever go inside a fire truck,
Horns ringing,
Basket rising,
Jacks holding up the truck,
Boot's muddy
Chainsaws breaking,
Ladder extending,
Give it a go!
Mary HG 10
School Server
Last week the school's computer technicians reformatted the school server. It had been hacked with a ransomware virus, despite the various safety programmes in place. Student devices will not have been affected as they are unable to connect with the school server. As an initial safety precaution students were not able to use their devices last week.
Safety of Student Devices
Please ensure that your child's device has the necessary virus protection and that it is current.
Interschool Cricket
On the 26th of February, the girls and boys in year 3, 4, 5 and 6's went to a cricket tournament in Takapuna.
The girls in the year 5 & 6 team did extremely well in their games. They won 3 of them. The teams they played were all very friendly, showed good sportsmanship, and were great to play against. They also got into the semi finals and won. This put them into 3rd place overall. Great job!
The boys in the year 6 team were amazing as well, winning most of their games. We interviewed Hunter, and he told us that Murrays Bay and Sunnybrae were great teams to play against. Max told us that it was fun because they got to play lots of games. They came fourth.
The rest of the teams were very successful as well.
It was a very exciting and interesting tournament.
Stella and Beth.
Chocolate Fundraiser
Last week we got underway with a PTFA led chocolate fundraiser – boxes were sent home on Wednesday afternoon with the eldest child in each family.
Once you have sold your chocolates, please direct debit the funds into the PTA bank account:
12-3026-0316672-00 including: Particulars: [Your child's name]; Code: [Your child's home group]; Reference: [CHOC].
Alternatively, you can return the money to the PTA, who will be outside the school office on the following dates: Thursday 28th Feb & 7th Mar and Friday 1st 8th & 15th Mar between 8.15-8.45am.  Please also return any unsold chocolate bars to the PTA on collection days should you need to (preferably by March 8, so that other families can try and sell any extra bars).
There will be prizes awarded for the most boxes sold. Extra boxes can be requested by emailing pta@sj.school.nz by Wednesday 6th March. Additional boxes can be collected on the above dates (excluding March 15, when all money must be returned) or will be dropped off to your child's classroom.
As an added incentive, every child who sells a box and returns their money by Friday March 8, (either via direct debit or to the PTA on collection days) will also receive a small stationery prize.
Thank you to all our families for your support of this initiative.
Calling all helpers! 
Here at St Joseph's we have a Waterwise programme that we run for Year 5 and 6 students to build on the Beach Education they attend in years 1 – 4. However this programme can only run if we have qualified and non-qualified helpers. 
We have a slot on Tuesday mornings down at Lake Pupuke and would love to have some parents (anywhere in the school) to train up and come and get involved! You are guaranteed some fantastic days out on the water and once trained can support us any Tuesday's you are available!
There are two ways you can help and both require some training but once trained you are good to go. Below is the information for courses and if you are interested please email Sarah Nicolson at sarahn@sj.schoo.nz
Programme 1
(for parents who would like to help but not be a fully trained instructor)
1.Tour of the centre, location of equipment. First Aid / Safety.
2. Fitting of buoyancy vests.
3. Getting gear out and return of it to correct place – Optimists, safety boats, buoys, petrol tanks, weed clearing tools.
4. Kayak storage and seesawing /cleaning
5. Kayak paddle grip and sitting in optimum paddling position
6. Rig an Optimist.
7. Demo of correct sitting and moving position in an Optimist.
8. How to set a sailor off in an Optimist from dock.
9. How to safely catch an Optimist returning to dock.
Should take about an hour and a half.
Course Date Thursday 14th March 3.15pm – 4.45pm at the Waterwise Centre behind Milford School.
Programme 2
(for parents who have experience in boats on the water or who want to learn)
Monday 11th –  4pm to 8pm
Wednesday 13th – 4pm to 8pm
Sunday 17th –  8.30am to 12 noon –  Sailing practice session
Thursday  21st – 4pm to 8pm Written test session 
Plus a date to be advised hopefully the following week – 4pm to 8pm which is the sailing assessment session.
Trainees do need to attend all sessions although depending on expertise we can be flexible. 
You will receive a Waterwise certificate which you can use for years to come.
Parish Centenary
This year St Joseph's Parish, Takapuna, is celebrating it's 100th birthday. There are a number of events that will occur this year as part of the celebration. 
Nine novena Masses, beginning Sunday 10th March. Weekday novena Masses will be at 7 pm. Saturday novena Mass will be at 9 am and the Sunday Masses at the usual time. The novena will be a special time of gratitude to God for the journey of our faith community, and a time of prayer for our present needs.
Feast of St Joseph Mass, celebrated by Bishop Patrick Dunn, Tuesday 19th March, 7 pm. This will the Centenary Mass for the Parish.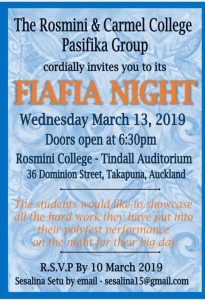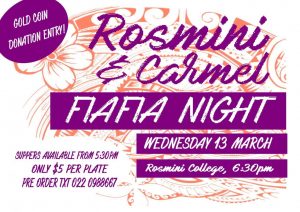 How could your child help others?