ST JOSEPH'S CATHOLIC


SCHOOL
TAKAPUNA
2019/20 – June 24
This week we celebrate Matariki. Matariki is the name for the seven stars that rise in the night sky around the shortest day of the year. They are known as either the seven sisters or the Pleiades cluster of stars. Matariki has two meanings, both of which refer to the cluster of stars. Mata Riki means Tiny Eyes, and Mata Ariki means Eyes of God. It symbolises the beginning of the Maori New Year. Home groups will be looking at Matariki as a part of their programme of learning. Happy Matariki.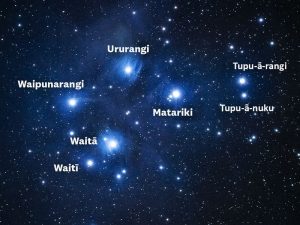 Thank you to the many students who participated in the Patuone House Mass. It was wonderful to have so many students leading our parish Mass. Thank you to the choir for their beautiful singing. Thank you also to the teachers and parents who supported the students at this Mass, and thanks to Father Christopher for celebrating the Mass.
Today a trial lockdown was carried out. This is an emergency audit process carried out by an independent company to ensure we have the correct procedures in place and that the school carries them out accordingly. We have one trial each term, either fire, earthquake or lockdown.
In the case of the lockdown students go to predetermined safe zones where they are not visible from the windows and all devices are shut down. Students and staff remain in their safe zones until the clearance signal is given. Any visitors to the school during a lockdown are directed to a safe zone. 
In an actual lockdown parents will receive an alert via our website mailchimp and via eTap email. Parents are not to come to school. When the lockdown has been lifted, under police guidance, parents will receive a further notification. Parents are asked not to contact the school through a lockdown as it is important school phone lines are available. Should a lockdown be for a period of time parents are asked to monitor their email account and the school website for updates.
What a great evening we had watching Toy Story 4. The theatre was full and the children and their adults were truly entertained by the movie. Our thanks to the PTFA for organising this fun family occasion and thanks to the many families who were able to support it. 
Monday 24 June
9.15 am  – School Prayers
Tuesday 25 June
Wednesday 26 June 
Lunch time clubs – Drama / Culture
Thursday 27 June
8.15 am – Choir
Friday 28 June
Mandarin Lessons
Volcanoes – Auckland Museum
In week 7 and 8 HG 1, 2, 3, 4, and 5 went individually to the bubble for a special treat. Tom and Claire from the Auckland Museum had come to teach us about what to do in a disaster.
They started off with a really cool video about volcanoes and what kind of volcanoes there are like Fire fountain, lava flow, explosive eruption. They also showed us different kinds of rocks that you can find around volcanoes, like the lava bomb. For a test we had to sort out the rocks with the right volcano.
Next for a little bit of fun and acting Tom and Claire chose someone to be the birthday girl or boy. We imagined we were at the birthday dinner really close to a volcano.  We started to eat our dinner when there was suddenly a shake in the ground – an EARTHQUAKE! The TV then suddenly turned on with breaking news. We had 8-12 hours to evacuate our homes because there was going to be a volcanic ERUPTION! After that we were all put into groups. We had to stuff everything we thought needed into bags. One of the things most teams stuffed into their bags was a pet. That was probably the only thing that you should take, but not in a bag. Some things we packed were water, first aid kit, small blanket, sunglasses and mouth protection.
I interviewed Mharcus. He told me that his favorite part was packing the stuff into the bags. He learnt about the different types of volcanoes. He went to Lake Pupuke for Waterwise, which is a volcano.
By Stella HG 1
On the 13th of June 2019, five teams from Kakapo and Kakariki represented St. Joseph's in Rippa Rugby. This Rippa Rugby was the 2nd of 3 tournaments this year, which are organised by Harbour Sport. All of the tournaments this year are at Onewa Domain. So far the year 5 and 6 girls and the 5 and 6 boys red have still not been beaten yet this year. All of the other teams are growing together as teams. All the teams are also showing great sportsmanship through all their games.
When the teams arrived, we all headed to our school's tent, the teams then headed to practice for their games. Some parents and teachers from school helped coach and look after us. Each team played three games, against other schools from the North Shore including St. Leos, Stanley Bay, Devonport, Northcote, Milford, Takapuna.
Liam HG 3 said that Rippa Rugby gets us ready for more sports that we might play later. It is also really fun spending time with friends. It is a good sport just to try.
Thank you to all of the parents and teachers who helped, we couldn't have done it without.
By Stella Hg 1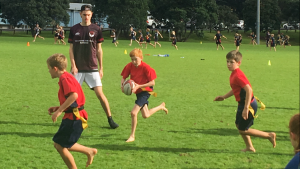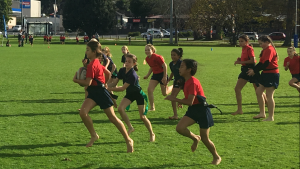 Fun
Laughter
Intense excitement
Play Hard
Passion
Attack the Ball
Battle for the Ball
After the attacker
Line up behind the goal
Lap the pool
By: Hamish and Charlotte
The two Newbie Flippaball Orca and Sting teams are so far unbeaten this term. 
We have a mix of year 2 and 3 and new and old players across the teams. 
Dedicated coaching from the Dad's and the Mum managers are helping it along not to mention the vociferous St Joe's army cheer squad who are ever present. Much fun is had by all. Fingers crossed for the knock out games starting this week. 
The year 4 Dolphins team and the year 5/6 teams are also having a great season
Flippa Ball / Mini Ball / Basketball
We invite your teams to register to play the following sports for St Joseph's Primary School in Term 3.  Registrations close on 1 July 2019.
Newbies Flippa Ball Years 2-3             Yr 4-6 Flippaball
Location

: AUT Millennium, Antares Place, Mairangi Bay

Day

: Sunday

Game Times

: Varies, 1:00 pm-8:00 pm

Season Dates

: 28 July – 15 September

Game Duration

: 20 min (2 x 8 min halves)

FEES

: $67.00 per player (based on 8 in a team) for Years 4-6 or $60 per player (based on 8 in a team) for Newbies (Years 2-3)
Year 2-4 Miniball        Yr 5/6 Basketball
Location

: North Shore Events Centre, Silverfield and Argus Pl, Glenfield and AUT Akoranga Drive

Day

: Tuesday

Game Times

: Varies, 4.10 pm – 7.55 pm

Season Dates

: 13th August for 13 weeks

Game Duration

: 20 min

FEES

: $92.00 per player (based on 7 in a team)
If interested:
Please go to www.sj.school.nz

scroll down to the link to SCHOOL/SPORTS PAYMENTS

this will take you to Enrolmy

Login/create a login (if you haven't already got one)

Click See School Activities

When you click  "Book Activity"  if you have already registered your child for an activity through your enrolmy login, please just select the box of the child you are wanting to enrol.  

Please consider your child's schedule carefully before booking.  Any refunds will be charged a $5 administration fee unless they can be transferred to another activity.
Please consider your child's schedule carefully before booking.  Any refunds will be charged a $5 administration fee unless they can be transferred to another activity. 
Any questions please email sports@sj.school.nz
NZ Police recently launched a new non emergency number, 105. We've done this to make it easier to get hold of us in the event of non-urgent situations or 'Things which have Already Happened', which don't require Police assistance immediately.
You can call us on 105 for all non emergencies, or you can go online at 105.police.govt.nz to report things like:
Lost property

Theft for a public place or car

Intentional property damage

Or to get an update or add info to a previous report
In the event of an emergency, always call 111 – Things that are Happening Now.