ST JOSEPH'S CATHOLIC


SCHOOL
TAKAPUNA
2019/1 – February 2
A big welcome to …
to all our students and their families for the 2019 school year. We are looking forward to seeing you all on Monday 4 February.
Home learning spaces will be open at 8.20. Students go straight to their home learning space on their arrival at school. Prayers will be in home group spaces this Monday. Please could all students be at school by 8.45 am ready for their home group prayers at 8.50 am.
If you are unsure as to which home group your child is in please call in at the office on your arrival.
Top Floor Left to Right
(looking from the quad)
HG 1 Miss Miles, HG 2 Mrs Young, HG 3 Mr O'Connor, HG 4 Miss Nicolson / Mrs Knottenbelt,
HG 5 Ms Douthwaite,  HG 14 Miss Strother
Lower Floor Left to Right
(looking from the quad)
HG 7 Miss Woodhead, HG 8 Miss Atkinson, HG 9 Mrs Linehan, HG 10 Ms Nelson,
HG 11 Mrs Gould, HG 12 Miss Luxford / Mrs Bartja
Lower Single Learning Spaces Left to Right
(looking from the quad)
HG 15 Mrs Dunne, HG 16 Miss Ryan, HG 17 Ms Kang,
HG 18 Mrs Pratt / Mrs Saxon
Library – HG 13 Miss Leahy 
Over Terms 1 & 2 this year the school hall is being re-clad. This will see the hall, hall kitchen and toilets, along with the music room and neighbouring offices being out of action over this time period. 
We have made various plans to ensure school for the students continues as normal. Listed below are the changes that we have made.
Bubble Classes
HG 13 & 14 have been moved from the Bubble to the library and HG 6 learning space (upper level, right hand corner, looking from the quad) respectively. 
sKids – Before and After School Care
This will be held in the 'Bubble' (learning spaces 13 & 14). Access to the 'Bubble' is past the main office entrance, through the quad, and down the stairs.
 Library
The library will be closed however the students will be able to take out library books as we are putting in place a mobile library. 
Monday School Prayers
These will be held in the hall that is underneath the church. The first school prayers for the year will be Monday 11 February.
Kidz Can Music Lessons
These will be happening in the St Joseph's Centre
Car Parking
There are no changes with the number of parks available to parents. The court area will still be available for parking after school. Parents need to walk to the pick up zone to collect their child. Students can only walk to the car accompanied by an adult.
Parks in front of the Centre belong to Summit School. Please do not park there.
Drop Off Pick Up
The first gate into the staff car park is now the access to the building site. The second gate will be the gate used for dropping off and collecting students.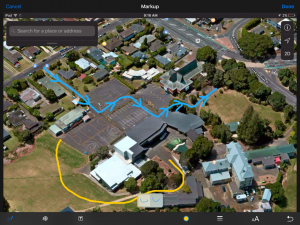 BLUE LINE – Route driven for drop off pick up
YELLOW LINE – Route walked from parking on courts to quad to collect children
If you are just picking up your child it is recommended you time your arrival for 3pm, when the gate will be open. The gate remains closed till 3pm in order to allow parents time to walk their children through the car park safely.
We thank you for your patience and support with car parking, drop off and pick up. Please be mindful of adults and students walking to their cars, particularly when backing out of car parks. Please do not ask your children to walk to the car on their own.
Waitangi Day – School Closed
Waitangi Day, Wednesday 6 February, is a public holiday.
Our school will be closed on this day
Thank you for ensuring your child is in the correct uniform